The Crete Branch of the MGS
Past Events 2017 2016 2015 2014 2013 2012
November 2011
A talk and visits to three gardens designed and created by two of our members
Annika and Stelios, who own and run Chloroplastes in Kalives, invited members to come along and hear about their philosophy and approach to garden design, which are very much in line with the beliefs encouraged by the MGS. They had liaised with three clients who were willing to let us visit their gardens where Annika and Stelios have put their ideas into practice.
Annika greeted us with welcoming refreshments in the Chloroplastes office. We were shown the impressive designs and plans. The locations and client briefs were explained, as well as the reasons for the choice of the plants used.
There was plenty of time for us to ask questions and a good discussion followed. Much discussion was about the issues of gardening on Crete. We were shown a map of Greece with its different climate zones. One of the key things for us is the consideration of the local climate conditions; on Crete we are in the hardiness zone 10 (or more properly 7-10 since in the highest mountain regions it may go down to zone 7). Annika pointed out that zone 10 has the same climate as North Africa. So there is a big difference in what can grow in the Cretan climate, for example some sub-tropical and tropical plants, and what would grow without human impact, that is, the natural vegetation. Thus each garden with its location and surrounding environment is different with the result that individual decisions have to be made on the plant species to be used in each garden (moreover the variety of plants available in nurseries is limited). For example, in the 'nature garden', next to the forest, palms would not be appropriate.
We were interested to know from where they sourced the plants they use, as Annika was very clear that the plants dictate the plan, and not simply what they can buy here. This means that they have to use nurseries in Athens and Germany as well as local ones, because it is difficult to buy native plants on Crete. This is a constant frustration to us all.
We then went to look at the gardens: two of them were very close together, just outside Almerida, and the third was in Plaka. All three are young gardens, still being developed, and they are all very different. We saw:
A lawn and rockery garden of 330 square metres. It was started in 2009 and work continued until spring 2011. It consisted of two lawns and soft borders to the neighbouring nature garden with small rockeries.

Entrance to lawn and rockery garden
Here an interesting discussion took place regarding lawns. Annika explained that there are times when a conflict of ideals can take place between landscape designers and environmentalists and their clients, a lawn in a mediterranean climate. In the office she told us about a special subterranean drip irrigation system which uses about 30 – 40% less water than would otherwise be given. On our visit to this garden, Stelios showed us the workings of this system and explained how the water is filtered regularly so that the soil cannot clog up the pipes. The lawn was in excellent condition, clearly very well looked after.

Rosemary and santolina line the pathway
A nature garden of 600 square metres. This was constructed in 2010 to 2011 to blend with and include a forest inside the garden.
Local plant species were chosen for this garden (for example, Crataegus monogyna, Ebenus cretica, Origanum dictamnus, Satureja thymbra, Vitex agnus–castus, Olea europaea, Hedera helix, Cistus creticus, Euphorbia characias, Laurus nobilis, Quercus coccifera and Capparis spinosa.
There were a few fruit trees and other mostly mediterraneanplants with some tropical plants in the pool area.
This garden has a lovely 'Secret Garden' currently under development where they are using the natural environment and the plants already there. There was a wonderful feel to this section even though it is not yet finished: a sense of being completely away from other properties, in a world of one's own.

Developing an unusual seating area
A modern villa with a garden of 580 square metres. This was constructed in 2010 with four different areas: a rock garden at the entrance with succulents, mediterranean perennials, some fruit trees, hedges of Lavandula and Myrtus and a line of columnar cypresses.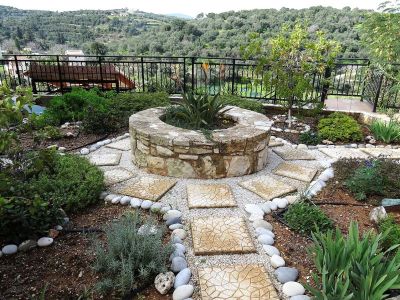 Lavender hedging works well against the stone
Up a stairway three columnar cypresses were planted to mark the entrance leading to a herb garden with two herb spirals.
Further on is a delightful natural rockery with different mediterranean plants, succulents and cacti. Several of us were fascinated by the Pachypodium lamerei (Madagascar palm) pictured below.
A follow up to this visit will take place in May so that we can appreciate the differences between autumn and spring.
A delicious Italian lunch was enjoyed by the majority of the group to round off this very informative visit with event in which the background philosophy was backed up by the actual garden visits.
A special thanks to Annika and Stelios, to whom we wish them every success in their future business developments. Do look at their website.
Text and photos by Valerie Whittington
October 2011
A visit to the Botanical Park of Crete
The Cretan Branch of the Mediterranean Garden Society, together with guests and members of the Apokoronas Plant Enthusiasts (APE), met at the Botanical Park Centre, perched in a beautiful setting, high above terraced hillsides outside the village of Fournes, on the road to the Omalos plateau.

Looking down into the lower sections of the park
Despite grey skies there was a good turnout of 41 people, who after a welcoming drink of Malotira (Mountain Tea) were given a talk and cookery demonstration by Petros Marinakis, the oldest of the brothers, and the cook, plus occasional incursions by a curious youngster happy to join in the tastings.
Petros explained that ruinous fires in 2003 presented an opportunity for a radical rethink and, capitalizing on the favourable microclimates of the 20-hectare site, allowed the planting of flora from a wide range of climate zones, specializing in fruit trees and herbs (excepting only the ultra-tropical). For more information click here.
Following his introduction, Petros explained the essentials of the Cretan diet which had underpinned exceptional longevity among the older generation and is once again enjoying something of a resurgence. It consists of vast quantities of olive oil (about a litre a day per person), fruit and many varieties of wild greens. This survival diet, which evolved during years of poverty and occupation, proved extremely beneficial. Ingredients are local and seasonal, with chunky vegetables to provide calories, and dishes are flavoured with orange rind and diosmos (a variety of mint).
A demonstration of the preparation of three dishes, later served for lunch, was given by the cook, with opportunities for us to smell and taste ingredients during the process. These dishes were: siebetherio (briam), boureki and tzatziki (the secret of the latter being good wine vinegar).
Wine was seen as an essential element of the cuisine, matching the olive oil barrel for barrel, and the home-produced honey-/amber-coloured Romaki accompanied our meal. And of course tsikoudia (raki) was used for a multitude of ailments, as well as being the embodiment of hospitality.
The scene having been set, there was then time to wander down and around the terraces, past exotic guava, mango, custard apple, pineapple and coffee plants, and the poisonous and weird sausage tree (Kigelia africana), good for snake bites, down through the more familiar Greek herbs and citruses. Even here there were strange varieties, e.g. the Buddha's Hand citron (Citrus medica varsarcodactylus) supposedly brought back by Alexander from India in 325 BC – see photo below – and the Finger lime (Citrus australasica) from Australia.

Passion flower with fruit
At the very bottom of this terraced amphitheatre were the small lake and a motley collection of animals. The most rare were the wild Cretan goats, agrimi (Kri-Kri), some of the remaining 600 that have not interbred with domestic goats, alongside whose enclosure was incongruously the ostrich run.
We envied both the speed and nimbleness of these animals as we began the steep ascent through the citrus groves, fortified by the promise of lunch awaiting us. Clean plates and free-flowing conversation signified the success of the outing, and many who expressed their enjoyment of the event looked forward to a repeat visit in the spring.

Buddha's Hand
One of our party felt inspired to write a special poem to mark the visit:
Jenny's Poem from the Botanical Park of Crete Visit, October 2011:
A hundred and one plantations
And on that grey-lit October day
(Is it a gaggle, a wheelbarrow or spadeful
of) plant lovers of APE and MGS
Set forth to gaze at tamarillo
Anambarella plum, Kangaroo apple and Japanese raisin tree
No, not in the continent of Australia nor the island of Japan
but on a burned hillside
hidden in a mountainous valley of beauty and shelter
A rock, stone and earthy pearl created in a microclimate,
and born in 2003
And on that grey-lit October day
After welcome, warmth and words of Cretan cuisine
we walked the winding pathways,
Spying the official tree of L.A – the coral tree, set with sugar cane and date palm, a chestnut and a service (its cider-like drink awaits another day!)
And we climbed amongst the dittany, lemon verbena and apple geranium
We read of the lemon, here so commonplace but we learned of the 150 ailments to which it lends its grace
Wormwood and tiptomas, agnus-castus and rosemary
all part of nature's natural pharmacy
And then to - ice cream bean and sausage trees
Red guava and lychee
We sat and gazed, we close our eyes to memorise
the shapes, the scents, the colours and the sounds
On that Grey-lit October day
And then the sun shone through, as we travelled
throughout the world in that one short hour and a while
and, at the last, feasted at the thought of Bramley apple pie
as we passed through an apple orchard so like those of home
On that now sun-lit October day.
With thanks for a great group day,
Derek and Jennifer, 'Peresteria' Kokkino Horio
The report was written by Mary Newbery, photos by Valerie Whittington
October 2011
AGM in Palma, Mallorca
I attended this year's AGM in Mallorca with Pam Dunn, also from Crete (photo taken outside Palma Cathedral). For this occasion I was also asked to represent the Greek Branch at the annual BH meeting before the start of the AGM. It was a very interesting experience to discuss various aspects with the Branch Heads from several other countries. I also had the privilege of going to Heidi Gildemeister's garden as part of a private visit. Heidi was one of the very early members of the MGS and is a previous President of the Society. She has written several excellent books on mediterranean gardening.
110 members enjoyed the interesting programme that Sally Beale, Head of the Balearics Branch, had organised. We visited both private and public gardens, had two talks on garden design and an excursion to the wild island landscape of Sa Dragonera, a minimally managed public nature park. This filled out the broader impression of Mallorca's great diversity in garden design as well as natural flora and habitat.
As I have written the 'official' report, members can read more about it in the next issue of the journal (January 2012), with accompanying photographs on the website.
The most significant aspect to come out of this year's AGM for members in Crete is that I was asked if the Crete group/section of the Greek Branch would like to become a branch in its own right. In 2009, members at a meeting here had asked the President at that time, Caroline Harbouri, whether we could become a branch in the future. We were told that the Administrative Committee would have to approve any group such change of 'status'. The proposal was now put by the President, Jean Vaché, to the Branch Heads during their meeting with the AC, who supported it wholeheartedly. I think our planning and hosting the AGM here in Chania last year showed our enthusiasm and support for the Society. On my return home I received confirmation that the AC had formally agreed to this decision and so we are now officially a branch – hence the launch of this new webpage.
So what does this mean to members on Crete?
The Society will now have 20 branches. I think that it gives us a real sense of belonging to an international network. I have copied the following from the notes for Branch Heads to provide further information:
'In general: Although no provision for them is made in the Charter, the Society's Branches were established in order to give members in each region a chance to meet and to share their interests and gardening experiences. The Branches are now a significant part of the Society. Provided that they work in accordance with the aims and objectives of the Society, Branches may develop their own practices and programmes independently, responding to their own widely varying circumstances.
Branches have three complementary roles:
to promote the Society and its aims
to encourage new members
to organize educational, gardening and other activities where members can meet and socialize.'
Our group is already operating within these guidelines, particularly having hosted the AGM in Chania last year when many of the above aspects took place. What it also means, and this is a very exciting aspect, is that we now have this page on the website. This has great potential for communicating our own activities, valuing what happens here on Crete and reaching a wider audience.
Text and photos by Valerie Whittington
May 2011
A visit and talk by Marcus Ryan: "A mediterranean climate garden in southern Australia – my experience"

Marcus Ryan in Valerie and Clive's Garden
As you will have read in the invitation to this event, Marcus is a member of the Mediterranean Garden Society living in dry inland Victoria, Australia. He has 12 years' experience working with perennials and grasses at Lambley Nursery in central Victoria, where they trial plants for their hardiness. The climate there reaches 45 degrees Celsius during the summer, with frosts to -7 degrees Celsius during the winter. His enthusiasm for dry-climate plants and gardens assisted him in gaining a Churchill Fellowship; as a result he travelled through Europe from April to June 2011, researching plant breeding, selection, cultivation and garden design featuring mediterranean plants.
Having attended a botanical conference in Menorca, and then spending time in Barcelona and Madrid and their surroundings, he arrived here in Chania on 13th May. Clive and I met him from the first flight out of Athens arriving in Chania at 6.30 in the morning. He was keen to see as much local flora in natural settings as possible so our first location was The Park for the Preservation of Flora and Fauna – the gates opened at 7.30 and we were there. The Park was looking at its best with an abundance of colour and a rich variety of flora. Marcus was in his element and spent a long time in the Park's different sections: studying, photographing and making notes. Cistus creticus was in full flower and stunning, creating huge patches of pink and white, while Phlomis cretica made banks of bright yellow.
It was just the sort of natural environment Marcus was hoping to see, as they propagate and grow several Cretan varieties at Lambley Nursery. He also spotted a few orchids (which I missed) tucked away in the middle of some of the beds, although it was a little late for many of them. We also saw the Coastal Garden section now with planting well under way; MGS members visited this as part of the optional programme following the AGM in October 2010, when a 500-euro donation was given by the Society in support of this conservation project.
From here we went to the Botanical Park of Crete. Although in contrast to the PPFF in terms both of its location and in of the fact that this is a 'man-made' environment, it illustrates the diversity of trees and smaller plants that can be grown in the special microclimate there, including many exotic, tropical fruit trees. It gave Marcus a greater insight into the special nature of Crete and its diverse microclimates that allow the island to grow such a wide variety of plants for food and pleasure. I plan to organise a trip for our members in late summer/early autumn to see the interesting varieties with fruit.
In his illustrated talk Marcus took us through the seasons, showing elements of the garden at these very different times of the year. The nursery has a show 'Dry Climate Garden', so through slides we were able to see the area in late spring, then summer perennials and the beautiful tones of autumn, thus illustrating that interest can be maintained throughout the year with the right choice of plants. A helpful list of bulbs and perennial plants accompanied the talk so that we could easily make reference to names of particular plants or make notes as the presentation progressed. Several of us wished that the nursery were closer so that we could buy from there, but of course quarantine restrictions/distance wouldn't allow for that. There is certainly a need for our nurseries to develop local plants for sale. The collection at Lambley has many Cretan plants in its listings, all propagated there. Marcus was so thrilled to see several of these plants in their natural environment here in Crete.
Marcus' talk has reinforced for me the usefulness of bulbs in a mediterranean climate and the wonderful design effect achieved by planting several plants of the same variety together to gain a sweep of colour. He also illustrated this point by admitting that some of the perennials would look insignificant in single groups, and in fact the garden would then look 'bitty'. Drifts of Salvia nemorosa varieties were an example of this – stunning and very effective, requiring no water through the summer. (Look at the website – below – for photographs of this concept.) The other very helpful aspect of the talk was the way Marcus showed beds with flowering partners, for example, a variety of Salvia nemorosa grouped with Asphodeline lutea (which many of us have growing naturally here) and Tulipa orphanidea with Euphorbia myrsinites from Greece.
So the overriding message is to value what we have growing naturally and work with it, perhaps by interplanting drought-tolerant species like the salvias (of which there are so many different colours) with mediterranean climate bulbs among them to create a 'Dry-Climate Garden' of our own design and to our own taste but very much in keeping with our own landscapes. (See my article Designing and Working with the Natural Landscape in Crete in the MGS Journal January 2011.)
Twenty-eight of us had a very enjoyable evening at Pam and Geoff Dunn's home and I thank them very much for allowing us the opportunity to hold this highly successful evening there. Marcus' talk was interesting and informative with the most beautiful and inspiring slides. Thank you also to all who contributed to our bring-and-share supper which rounded off the evening perfectly, allowing plenty of time for informal mixing and mingling.
Lambley Nursery's website has images of their Dry-Climate Garden featuring the many hardy and beautiful Mediterranean plants they cultivate. All the slides shown us were taken at the nursery by Marcus and they were glorious.
Text and photo: Valerie Whittington
April 2011
Sparoza and Peloponnese weekend
A visit to Sparoza - The Mediterranean Garden Society's Garden
Eight of us from Crete were up before dawn to get the first flight of the day to Athens. On arrival, still bleary-eyed, we headed straight away over to the Sofitel for a substantial breakfast. This would see us through most of the day as, after our visit to Sparoza, six of us would be travelling on to Monemvasia to join other MGS members for the weekend organised by the Peloponnese group and the others would be braving central Athens.

Our group proud to be with Sally Razelou
Sparoza is about 12 km from the airport and 20 km from central Athens. It sits on a hillside near the village of Peania and overlooking the airport. Many members will know something of the history of the house and garden built and developed in the 1960s by Jacqueline Tyrwhitt. Her book Making a Garden on a Greek Hillside is a wonderful resource to all of us wanting to learn from her example. She was a pioneer in the use of mediterranean plants and when the Mediterranean Garden Society was founded in 1994 Sparoza became its seat, with the permission of the Goulandris Museum which now owns the property. The society bears sole responsibility for the development and maintenance of the garden. Sally Razelou is the custodian and has been at Sparoza for 20 years. See more on Sparoza's own webpages.

The dry garden
The garden at Sparoza is managed on climate-compatible waterwise principles. Its aim is to test mediterranean plants for their drought tolerance and their ability to grow in poor soil and hot conditions. Some parts of the garden receive no water at all in summer; some plants in other parts are given measured amounts of water once or twice a week or less often, according to weather conditions. Plants needing large amounts of water are grown only in pots.
No chemical pesticides, herbicides or fertilisers are used in the garden. All garden waste is passed through a shredder and compost is made in three pits. Well-rotted cotton waste is used as a constituent of the propagating medium in the nursery instead of peat. All planting is carried out in autumn and winter.
My second visit to Sparoza by Valerie Whittington
I knew we had taken the wrong turn as we drove beyond a wonderful splash of colour created by wild flowers all along the low boundary wall, it had to be Sparoza. Scarlet poppies (Papaver rhoeas), several different forms of golden dandelion, a few crown daisies (Chrysanthemum coronarium) and many others greeted us: The Mediterranean Garden Society's philosophy in action and in all its glory.
We were met by Sally Razelou, the custodian, eager to escort us around the garden. Sally is a wonder, so knowledgeable, welcoming and so naturally good with people; her enthusiasm was infectious and her work in the garden still very much 'hands on. I admire her very much and hope that I will have similar energy when I am her age.

Sally's enthusiasm is infectious
She talked to us about the history of the garden from Jacky Tyrwhitt's time and what she inherited herself 20 years ago: particularly what has been maintained and developed since then. Sparoza will always be a special place for me. It is home to my ideals and philosophy as well as an enormous influence and 'seat of learning'. My previous visit was in November 2007 as part of the Annual General Meeting programme with workshops run by Jennifer Gay and Piers Goldson, both of whom attended one of our very early meetings on Crete (May 2006) when they gave an inspirational, illustrated presentation about Sparoza and its drought-tolerant and special indigenous/endemic plants.
That November the weather was unpredictable and it rained on and off all the time we were there. However, on this occasion the weather was kind, a gentle sunny spring morning with its myriad of wild flowers mingling among the planted areas and cascading down completely, covering the hill section of the garden. Elsewhere wisteria was in bloom; hundreds of bright red berries covered the Pistacia lentiscus. Several orchids were in evidence (Sparoza has about nine different species – almost all Ophyrys). At this time there was a dominance of white and purple with Iris x germanica in full bloom, honesty and a lovely lilac (I didn't write down the name). This section was a particular joy to me as one of the lasting impressions from my first visit was the drifts of irises under olive trees and alongside some of the paths. This design element has been something that I have tried to emulate and I am thrilled that this spring I have a section of my own garden that in its modest way has taken on this idea and is flourishing. I'd left home with my own path-side sweep of what I've always called Iris florentina (although now the experts consider it to be a synonym of Iris x germanica) developing really well. As yet I have no purple Iris x germanica – but the next step maybe?
We were also delighted to meet Miyon Yoo, Sally's student this year, who spoke to us of how happy she was to be working alongside Sally and how much she was learning. I would love to have that experience – certainly if I lived in the locality I would want to be one of the valiant volunteer helpers who regularly turn up to help maintain the garden. Sparoza is a truly special place.
Sparoza visit by Pam Dunn
Sparoza was much better than I had imagined. I assumed the plants would be interesting from reading the book, but I had not appreciated how spectacular they would look in their setting alongside the many wild flowers that were on full display during our visit. The colours of the garden palette were fantastic – the vivid blue Iris x germanica against a sea of yellow dandelions on the hill was very impressive, together with the subtle pinks of the Judas tree as we looked down on the house. Each little path in the garden led to another tranquil spot featuring beautiful shrubs, not all in flower but of interest due to their shape, colour or type of leaves. It was a feast for the eyes and so encouraging to see how with care and attention Sally and her team at Sparoza had managed to cultivate so many different types of plants in the very difficult conditions of the site. I only wish that we had had room to take some cuttings home in our luggage. It is a great shame that the unique position of the hillside is now being compromised by awful building programmes which Sparoza has to see, whilst they – the lucky ones – look out on to the beauty of Sparoza.
Visit to Sparoza by Rosemary Thomas
I was very excited about the visit to Sparoza and when we drove into the parking area I was not disappointed, there in front of me was a beautiful Melianthus major and it was in flower, something I had never achieved when I grew this plant in England, so we were off to a good start.
Sally was a delightful guide and her joy in showing us the garden was obvious. We had a very thorough tour and it was hard to take in so many plants, and though I have to say that Sally knew the names and the history of every one.
We all had our favourites but I always love the succulents, particularly the bulbines, which are spectacular. The Judas trees (Cercis siliquastrum) were also flowering and they were gorgeous, as were the purple irises, a beautiful sight.

The Judas trees (Cercis siliquastrum) were gorgeous
I could go on and on but needless to say we had a wonderful time and I will certainly make the time and effort to revisit this beautiful garden.
Sparoza – Our Impression by Martin and Sandy Hayden
The sceptical remarks about Sparoza voiced by a few people at the Chania AGM in October 2010 had left question marks in our minds, not least "Would it be worth a) the air fare, to say nothing of b) the unspeakable pre-dawn start to catch the proï-proï to Athens?" For us beginners, Jacky Tyrwhitt's book of has of course been an essential work of reference. How intrigued we were to see the actual place she struggled with and wrote about. Would it live up to its legendary reputation?
In the event, the visit was a blast and it was evident that its few detractors at the AGM had very probably never visited. Sally Razelou and her helpers and volunteers have developed Sparoza – in our inexperienced eyes – to a phenomenal collection of native and imported, wild and cultivated plants seemingly well-adapted to this local and challenging version of the mediterranean climate.
As relative novices, we already knew we are clawing up a steep learning curve. Our visit pressed upon us how far we yet have to go. Sally herself, although carrying the contents of several gardening encyclopaedias in her head, never failed to pitch her information and advice with a precision perfectly judged to her audience's level of understanding – mostly well in advance of our own. At the same time she was keeping it practical, commonsense and accessible.

Discovering orchids
Then there were the reassuring discoveries that, by accident, we were already doing some things just like they are done at Sparoza: the three-compartment composting bins, the rainwater-fed pond, the areas left all summer without watering, other areas of phrygana left to evolve spontaneous (-ish) communities of wild flowers.
The timing of the visit in mid-April, after a long damp winter, may have afforded us an especially dazzling impression. Had we visited after a hot dry summer, the garden would doubtless have presented a browner and more desiccated look – so a follow-up is definitely called for to get the full picture. However, the spring blaze of wisteria and Judas tree blossoms, the scarlet poppies vying with the white arum lilies, the drifts of purple irises set among the wild chrysanthemums, the exotics like orchids and Sparaxis alternating with the familiar tassel hyacinths were spectacles not to be missed. And all the shades of green – both in close-up among the succulents and euphorbias and in sudden long, Italianate views down hillsides of sage and cypress.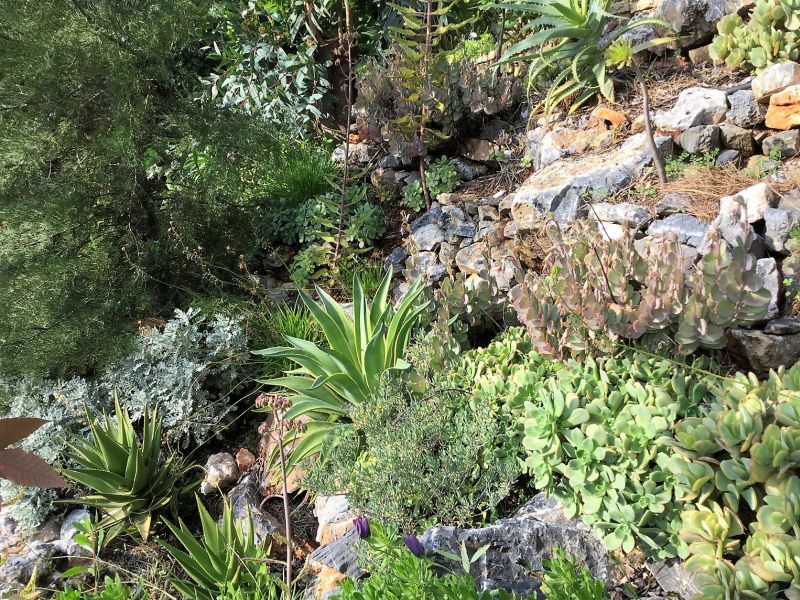 The lovely border along the terraces
Among the most startling things Sally had to show us were the handful of original black and white photographs of the house and the site of the garden in the sixties. The place was a stony, bare desert. The photos brought home to us just how much can be achieved with the right kind of understanding and experiment – and decades of backache.
So a huge thank you to Val and Clive for setting up an inspiring visit; to Sally for the generosity and wisdom of her insights, and to her current helper Miyon for welcoming yet another bunch of boggling tourists – and to Sparoza itself for putting on such a grand show. And for simply being there.

Enjoying the nursery
From Sparoza our next stop – Monemvasia
Eight of us from the Crete group joined the Peloponnese group in Foutia, Monemvasia for a weekend organised by Maria Kumb and Fokke Brink.
There was a welcome dinner at a taverna near our hotel more or less on arrival after our long journey. It was interesting to meet fellow members from different parts of the Peloponnese and some Italian members here on holiday – they garden in both Paros and their home, Verona.
The next morning Maria and Fokke showed us their lovely hillside garden – complete with a magnificent display of tulips.
A two-hour walk in the beautiful valley followed with the famous Rock always in the view. This included going down to the Lemonia River, wild and untouched, where the older villages used to do their laundry. On the old monopati were lots of flowers; Maria worried that they might usually be rare and were only in such profusion because of the mild winter. Panayiotis and Maria, close friends of Maria and Fokke, led the walk, pointing out many varieties of horta and edible herbs on the way. I was particularly pleased to discover some which grow in my own garden as wild flowers, such as Tordylium. We visited a lovely church at the top of the hill with Panayiotis acting as a most informative guide – even singing for us beautifully one of the well-known hymns in the church. The scenery was magnificent. Next stop, Marias's weaving gallery, where we saw the intricate and highly talented work she still produces – a very time-consuming and dying art. We felt privileged to have such talented and knowledgeable guides.

There was an abundance of wild flowers and horta
After lunch several of us took a second walk, guided by Maria Kumb to a well called Kuku Frisi. This is her favourite sacred place, where the old Platanus forms a dome. It was delightful, very peaceful and very unspoilt.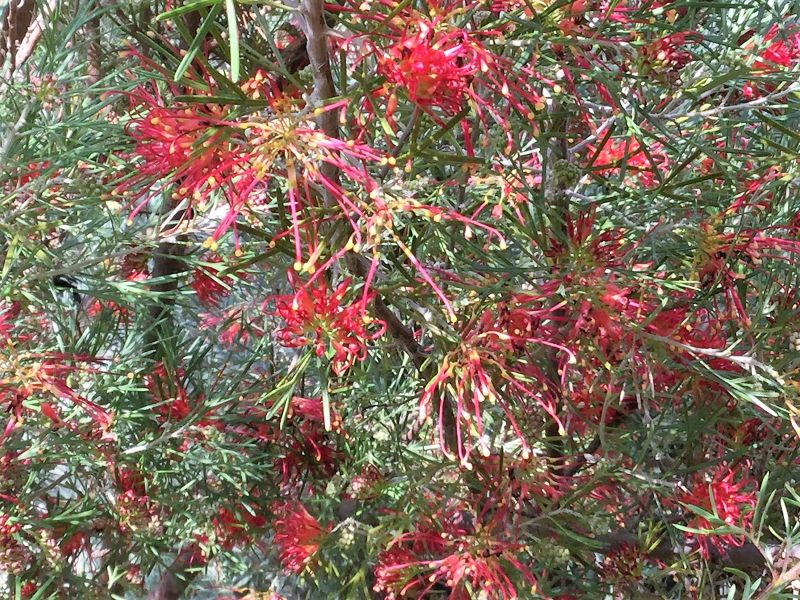 Maria's favourite walk to Kuku Frisi
On Sunday morning we were greeted by torrential rain and our planned visit to Monemvasia to visit the famous rock had to be reconsidered. The walk all around and up to the top of the rock was impossible. An alternative option, which Pam, Rosemary and I jumped at, was a look around one of the old traditional houses shown to us by Ada, a local member. It was like going back in time – a wonderful old building full of artefacts from years gone by – a special privilege and opportunity to visit such an historic private house.

Monemvasia
The view from the rock is breathtaking. In the kastro, the downtown area of old Monemvasia (which means 'the only entrance'), one may spend hours in the streets and feel as if one had stepped 500 years back in time. Interesting shops and cafés were inviting, but we had to leave to join our menfolk (who were waiting in a nearby bar) for the next stage of our trip to a Nafplion – our own extension en route home. A diverse weekend with lots of fun and laughter.

Some seeds always find their way
Photos: Valerie Whittington and Martin Hayden (all photos at Sparoza)
March 2011
A wild flower walk/visit at Bill and Ann Dobbs' Olive Farm at Alianthos near Chania
The farm covers 27 stremmata with 800 olive trees. We were to walk in their gorge. This was a joint activity with members of the Apokoronas Plant Enthusiasts group. Over half of us who went are MGS members, including Mary and Gary, who came all the way from the Matala area.
The weather was rather dull and cold for this event. As those of us living here through this winter 2010/11 know, it was a long, wet time with many spring flowers arriving much later than expected. This meant that fewer flowers were out on the day of our visit compared with the spring in of 2010.
Bill gave us a walking tour of the land, which lies on a gentle slope ending at one side of a private gorge with a lovely walk along the hill side surrounded by strawberry trees (Arbutus unedo), Cistus, Lavandula stoechas and Erica, including several large tree heathers. This proved particularly interesting; a group of us discussed the difference in the soil here compared with that in Apokoronas where the majority of us on this visit live. Here it was obviously more acidic, given the plants in evidence. Apokoronas had more flowers out at this time, generally having an alkaline soil as it is in a limestone area.
We also saw the peacocks which wander around the olive grove and are now thought to be nesting in the gorge – including a white peacock which I had never seen before and was quite captivated by, so that I took this photograph.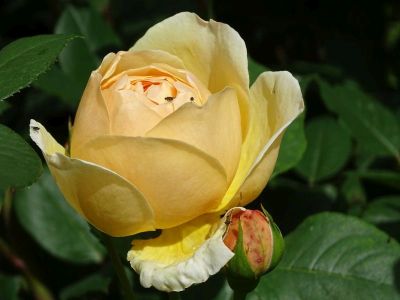 White peacock
I would like to say a special thank you to Bill and Ann for their hospitality. To complete the visit, we enjoyed a pleasant lunch at a local taverna and a good time was had by all.
Bill phoned me three weeks later to say we were welcome to go back and visit as the garden was now in full flower. Unfortunately, it was the Easter weekend and we were off to the UK. It is always difficult to get the date perfect for events.
Text: Valerie Whittington. Photo: Bill Dobbs