The Crete Branch of the MGS
Past Events 2017 2016 2014 2013 2012 Older
December 2015
Garden visit in Vrysses
This year our pre-Christmas garden visit with a seasonal 'bring and share' buffet lunch was held in Jill and Bob Lyle's house and garden in Vrysses. A warm welcome was quickly established as everyone was given a glass of Bob's carefully prepared mulled wine as they arrived. It was delicious.
After a chance to chat and seasonal well-wishing, we were ushered into the lounge where we had a review of our 2015 Branch events and given a taste of activities planned for 2016.
Jill gave some background detail about the garden, describing it as a renewal of a village garden and explaining that it is still a work in progress. She was keen to point out that, as they are not here all the time, the garden has to be easily maintained.
Sections of the garden were designed and planted by Annika and Stelios (of Chloroplastes, Kalives). We were glad that both Stelios and Annika (with their two-year-old daughter, Persephone) were able to come and talk about their impact on the design and plants.
Through a selection of carefully chosen slides Jill described the garden before building renovations began in 2008. The front garden was derelict, and the rest was a garden 'about food' with several fruit trees, including orange, lemon, mandarin, pomegranate, pear, apricot and walnut. Vegetables and fruit are still the mainstay of the majority of traditional Cretan gardens (and olives, of course). There were no real boundaries apart from a stone wall and there was a cistern.

The fruit garden as it is now
We were intrigued by the grafted citrus tree, which produces both mandarins and bitter oranges (just ripe for marmalade).
In 2013, building work was now completed but the ground was bare and trees overgrown, so major pruning took place with help from neighbours. The front garden was largely concrete with an apricot tree the only survivor. Jill and Bob's first plant was an oleander planted in June of that year and attractive edges around the fruit trees in the back garden were created with barrel staves. New trees include a Judas tree (Cercis siliquastrum) and Jacaranda mimosifolia.
Polygala, lavender and hibiscus were put in and provided the basic shape and layout of the garden along with various cuttings from friends. Then at the MGS Christmas party that year Jill and Bob met Annika and decided to enlist her and Stelios to help develop the garden further.
Annika took the lead in describing the next developments and how the garden was separated into different areas by strategic planting, as in the photograph below.
In May 2014 the tropical bed was created as a focal point alonside the pool. Plants were chosen as being least likely to shed their flowers and leaves. These include Cycas revoluta, Strelitzia reginae, Russelia equisetiformis, Cuphea ignea, Kniphofia uvaria (red hot poker), hibiscus, oleanders and climbers.

This colourful photograph taken in the summer shows
cannas and other tropical plants blooming well
The far rear of the back garden has been separated to create a seating area under the walnut tree by using large stones rather like stepping stones. This shady area includes ferns, Arbutus unedo (strawberry tree), Cretan fuchsia, buddleja, Pittosporum tobira and Abelia. Acanthus mollis provides a focus in winter.
Planting boxes with Trachelospermum jasminoides and Felicia amelloides are proving effective, as well as climbers such as Campsis grandiflora (trumpet vine), Tecoma capensis (syn. Tecomaria capensis), Rosa banksiae, Lonicera japonica (honeysuckle). Passiflora caerulea (passion flower) kiwi, clematis and wisteria are used elsewhere to screen and create privacy from neighbouring gardens.
The front garden can flood during heavy rain storms; Jill descibed how they had originally planted gaura and roses in what was a flat area straight off the street and it flooded so often that plants struggled as it was often waterlogged. Neighbours put in the vines over the front path.
Annika and Stelios improved this area by building up two rockeries to lift the space and lessen the impact of flooding. Succulents such as agave and Aloe vera were used, and plants were reorganised and colour-themed.

Blues are repeated with Agapanthus praecox, Tulbaghia violacea,
Scabiosa cretica and Plumbago auriculata (syn. P. capensis)
This is proving to be much more rewarding and practicable, ensuring that most plants are lifted out of the flooding areas. In June of this year, water drainage was a priority in preparation for winter.

Roses are grouped with pinks, gaura, sage, geraniums and callistemon
Close to the kitchen is a section with herbs such as mint, rosemary, oregano, sage, bay and lavender. Here there are also a few succulents and flowering plants such as polygala, iris, agapanthus and Tulbaghia violacea. Mandevilla (syn. Dipladenia), Podranea and clematis provide a developing backdrop growing up the fence.
This was a very relaxed and enjoyable visit combined with Christmas cheer. The weather was glorious and warm, so we were able to eat outside and much time was spent wandering, chatting and enjoying the garden together.

Looking from the rear of the garden towards the house
Thanks to Jill and Bob for their hospitality and to Annika and Stelios for their professional input.
Text by Valerie Whittington with photos provided by Bob, Jill and Valerie.
September 2015
A garden visit and a photographic presentation of the MGS excursions trip to Morocco
This special all-day event was held at Manoj and Clive's home and garden in Paleloni, Apokoronas. We met in the late morning and were shown around the garden, which is still in the early stages of development. Our visit was accompanied by a short illustrated talk, of particular interest to those of us who have started a garden from scratch in a completely different environment to that of our mother countries.

Lotus berthelotii, colourful and useful ground cover
Instead of a detailed write-up here, Manoj will be submitting an article for TMG based on his presentation.

California poppies (Eschscholzia californica) in the meadow
This is a delightful holiday home with new planting taking place to be seen on each visit. I include here six photographs of plants carefully chosen for the site, whether old favourites like the aloe and California poppies or 'new' experimental irises.
A bring and share Moroccan-themed lunch followed.
In the afternoon we enjoyed excellent feedback from the visit to Morocco organised by MGS Excursions through a presentation of slides led by Sara Gilding - our 'official' photographer on the trip. Sara had spent many hours editing and selecting the best from her collection. She traced the journey through spectacular scenery and captured the atmosphere and chose elements of the particular cultural design typical of the stunning gardens visited.
She was ably supported by Rosemary Thomas, in particular, and informally by other members of our Branch who visited Morocco in March.

Group photograph with participants from England, France, Greece
(eleven of us from the Crete Branch), The Netherlands, New Zealand
and Switzerland (Photograph by Sara Gilding)
An illustrated article by Rosemary about this trip can be read by scrolling down this web page to March 2015. In addition, there is a further article in the July 2015 issue of The Mediterranean Garden by Valerie Whittington.
Garden photographs were taken by Manoj Malde. Text by Valerie Whittington.
September 2015
A talk by Tim Ellis: Euphorbias – A Growing Passion
We welcomed Tim Ellis as our speaker on a glorious evening at Pam and Geoff Dunn's home in Douliana.
Tim Ellis is a horticulturalist and a landscape gardener. He started growing and selling plants when he was 14 years old and, after leaving school, trained as a nurseryman at Merrist Wood College in Surrey, England. After working for several nurseries and later running his own landscaping business, he started his own nursery in Cornwall. In addition to this, he is now specialising in euphorbias and other hardy perennials. Tim gives talks and demonstrations to gardening groups and societies throughout Devon and Cornwall. I was delighted when, as a frequent visitor here, he offered to give this presentation for our branch on Crete.
We enjoyed a general talk on the genus Euphorbia and on plants of other genera belonging to the family Euphorbiaceae. Tim covered euphorbias known to us here in Crete, in the wider Mediterranean area and also species he grows in the UK.
He started by acknowledging that the genus Euphorbia is a group of plants that many people consider invasive and dull. Their poisonous sap can also deter interest, but he believes that they are very worthy plants for the garden. He quickly gained our interest through his keen enthusiasm and knowledge of his subject, illustrated with his excellent slides.
Euphorbias can cope with widely differing conditions, Tim enthused, 'they actually look great with a thick coating of frost.'
He went on to illustrate an interesting feature of most euphorbias, namely the way the flowering stems turn downwards in winter and then stand up straight again to flower in spring, as demonstrated by these first two photographs.

A bloom unfurling in spring
We learned that the Euphorbiaceae family is very large with plants which can be found in almost every country of the world. Although the main area of distribution is from North Africa across the Mediterranean to the Himalayas and China, some euphorbias are also found in North America. Tim explained that some of these resemble spiny succulents and cacti; others are large, like rubber trees in Africa. Another is the much-loved plant most often bought at Christmas, the ornamental poinsettia (Euphorbia pulcherrima). The structure of the flowering parts of the plant and the white sap that oozes from the stems when cut define this family.
Tim's own particular interest is in the hardy species and varieties that can be grown in his own gardens in Cornwall. Most of these originate from Europe and Asia.
His collection started from just three varieties, Euphorbia characias subsp. wulfenii (Euphorbia characias grows in abundance here on Crete), Euphorbia amygdaloides subsp. robbiae and Euphorbia griffithii, which were put up for sale in the nursery as part of a general collection of perennials.

Euphorbia amygdaloides 'Purpurea'
This cultivar is derived from the UK native wood spurge and therefore likes semi-shade and a humus-rich soil. The purple colouration is at its best in spring, and contrasts well with the bright yellow flowers on 60 cm stems.
Euphorbia griffithii is an herbaceous plant that grows to 80 cm high with bright orange bracts. The cultivar 'Fireglow' has deep red bracts. Tim described how many who grow this species find that it has a habit of moving or running through the ground. This will happen if it is grown in loose well-cultivated soil, but if it is planted in heavy moisture-retentive soil, it forms a tight mound of bushy growth.
Tim said, 'I am obsessed with euphorbias' and he has about eighty-five different species and varieties, many being very similar but exhibiting qualities that make them stand out from the rest.
Given that these plants come from differing types of climate, situations and soils, growing them together in one garden only one acre in size led to many challenges. He described his biggest challenge as where to find the best site for each plant, and much research followed. The nursery garden has different areas of full sun, partial shade, deep shade, well-drained soil and damp soil, so finding suitable planting sites was not too difficult. He found few situations where one or other species could not be planted. Some species are evergreen while others are deciduous, and, like other garden plants, some are short-lived and others much longer-lasting. Planting in the best possible situation for each species ensures the maximum lifespan for each plant.
Euphorbia mellifera and Euphorbia x pasteurii are notable for the strong scent of honey from the nectaries when in flower.
We were shown slides of the beautiful flowers of several species. Some had orange and red bracts, others were covered in a mass of small flowers and others had large bright yellow bracts. Tim explained that euphorbia flowers do not have any petals: the colourful yellow or orange parts are not parts of the flower but coloured bracts surrounding the flower – actually known as cyathia. The real flower of most euphorbias is the central cluster of nectaries with the stamens and carpel in the middle.
The above variety is similar to E. schillingii, but has beautiful pink and purple young foliage when it emerges from the ground in spring. It flowers from May throughout the summer and dies down in winter.
Many varieties have a long flowering period, some also providing beautiful leaf colour in the autumn and spring: two displays from one plant. Tim believes that, with careful choice, euphorbias can be mixed in with ordinary garden plants and shrubs to give extra background or focal colour at various times during the year.
Euphorbia schillingii,originatingfrom the Himalayas, is a summer-flowering deciduous variety growing as a strong clump to 90 cm high and wide. The bright yellow bracts are about the biggest on all the euphorbias Tim grows and the flowering lasts for several months in mid-summer. It grows best in sun or partial shade in good soil.
Euphorbias are rarely eaten by slugs or snails because of the toxic sap. The only real problem Tim has encountered is that of rust and mildew, mainly with species with darker foliage. He believes erratic weather patterns are the main cause. Aphids found on young shoots in spring and summer do not seem to cause any ill effect to the plants, though viruses may be transmitted from plant to plant.
Pruning was discussed and it was agreed that it should take place when the inflorescences or stems are brown and dead to reduce the risk of sap irritation. At this time, the sap inside the stems has dried up and no longer presents a problem.
Tim has joined the National Council for the Conservation of Plants and Gardens, and is hoping to begin the process of applying for a National Collection status for his hardy Euphorbia collection.
Since starting his collection, Tim looks for euphorbias whenever he travels abroad. Recent trips to Malta and Crete have given him an opportunity to study some new species. He says that seeing the plants growing in the wild provides greater understanding of their individual needs.
Tim finds this species useful because it is low-growing and early-flowering. Several cultivars are available of differing heights, Euphorbia epithymoides (syn. Euphorbia polychroma)'Senior' is one that grows slightly taller, 45 cm high, and has the same inflorescence as the species. These plants also turn a nice orange colour in late summer before retreating into the ground for winter. There are also forms available with variegated leaves.
Seeds have been collected by Tim from several different species, most of which have germinated and they are now established plants growing in a nursery greenhouse. These new plants will be added to his collection and be used as stock plants to produce more seed. Although originating from a warmer climate, these plants may eventually be used in containers outside during summer. Tim talked about the possibility of new hybrids arising from cross-pollination with hardy varieties growing in the garden.
He also explained that propagation by division or taking cuttings is a quicker way to getting a new plant, but that cuttings are very slow to root with some species, while others have proved easy once the best method has been found. A slide show giving an example was shown – with Tim advising us to wear gloves to avoid the sap.
It was interesting to learn that many new varieties of Euphorbia are being developed by plant breeders - mainly in America. They are crossing different species and varieties to create bushier and more compact forms. Many of these new varieties are protected by plant breeders' rights or PBR, so propagation of them is actually illegal without a permit. Nurseries like Tim's have to buy young plants or cuttings of these if they wish to stock them, and a proportion of what they pay goes back to the breeders to help fund their work.
Euphorbia characias 'Silver Swan' is one such new addition. Tim considers this a stunning plant that looks good all year round and grows to 80 cm height and width. It has variegated leaves and flower heads. His plant, shown below, flowered for a couple of months in late spring and then again in late summer.

Euphorbia characias 'Silver Swan'
Euphorbia 'Diamond Frost' recently came on to the market and is most unusual as it has tiny white flowers. The plant flowers almost continually and seems only to bear a few leaves. The flower head develops into a froth of small white flowers all over the plant reaching about 30 cm high. Unfortunately, in the UK the plant is only an annual, but kept warm in a conservatory or house, it can be grown for several years and can grow much bigger. However, Tim gave me two small plants of this variety in August 2014 and I am delighted that they have been potted on, survived the winter and now the heat of summer outside here on Crete and are thriving in pots in a sheltered area.
Everyone found this presentation fascinating and we commended Tim for his outstanding knowledge and enthusiasm for his subject. Thank you, Tim.
An enjoyable bring and share supper followed outside on the terrace as the sun went down.
Photographs provided by Tim Ellis
Text by Valerie Whittington with support from Tim's notes
April 2015
An illustrated talk by John Fielding: Crete and its Endemic Plants
The European Sustainability Academy, Drapanos, Apokoronas was filled to capacity when over fifty participants attended this very successful event.
John Fielding with Nick Turland produced the widely acclaimed book, Flowers of Crete, published by The Royal Botanic Gardens, Kew. In this illustrated talk, John showed 135 images of plants, the majority of which are endemic to Crete. It was of great interest and educational value.
It was immediately clear from his enthusiastic delivery and professional approach that John has an incredible knowledge of this subject. He started by showing maps of the distribution of various plants and the rate of endemism around the Mediterranean. From this we learned that of the 1700 plants native to the Cretan area, which includes Karpathos and Kassos, ten per cent are endemic. That is, they grow there and nowhere else. Crete, John explained, is in a special location being close to Africa, Asia and Europe and has elements of the flora of all three continents.
Palms were an early subject. I remember a discussion with a friend who was adamant she would not grow palms because they are not Mediterranean. Photographs of Crete's own palm, Phoenix theophrasti, in Vai, were shown, followed by a distribution map of Chamaerops humilis (western Mediterranean) and Phoenix theophrasti (Crete and SE Aegean including Turkey). Our native Phoenix is widespread on Crete in isolated pockets around the coast. I found this most interesting.
Centaurea pumilio, a cornflower, or knapweed, grows only on the coast. John showed a photograph of this lovely, endangered species growing in Falassarna, western Crete.
Orchis spitzelii subsp. nitidifolia (syn. Orchis prisca), a very rare orchid in the west of the island, is also endemic to Crete. It is restricted to open woodland and pine forest in mountainous areas.

Orchis spitzelii subsp. nitidifolia (syn. Orchis prisca)
Most of us found the saxophone-shaped flowers ofAristolochia cretica fascinating.Cretan birthwort is relatively rare and not easy to find. Its habitats are shady and rocky places and the plant and flowers are well-disguised by surrounding grass and other plants. Aristolochia creticais endemic to Crete and Karpathos, blooming from the end of February to the beginning of July.
A lovely selection of plants from the Aradena gorge was shown, including cyclamen, some of John's real favourites. Several photos of different cyclamen followed. Cyclamen creticum, endemic toCrete and Karpathos, Cyclamen graecum, native to southern Greece, southern Turkey, and neighbouring islands and prized for its variable leaf forms, which include some of the most striking of any cyclamen, and Cyclamen hederifolium var. confusum, endemic to Crete. The latter flowers first, with its leaves following later, and it is found in just two valleys, Topolia and Polyrinia.

Cyclamen hederifolium var. confusum
I had seen and photographed the endemic sub-shrub, Verbascum arcturus, last year in the Imbros gorge. John showed four of these from different angles and distances to show them among the rocky terrain in which they are generally found, and to provide detail. A fascinating follow-up to these were another four photos taken in the Winter Gardens in Sunderland, in the north of England, where Lee Stephenson, the head gardener, has introduced these plants in a special collection. Having lived and worked in Sunderland for a short while, I was delighted with this connection, and I hope to visit the gardens when next in the area.
Origanum dictamnus is an endemic herb of Crete, also called erontas or stomatohorto. It has been known since ancient times and has been used as a haemostatic and wound-healing agent; its healing properties are mentioned by Hippocrates. It is said that when wild goats get injured, they rub their wound against this plant and it heals rapidly. Growing on steep slopes and cliffs, it is collected in the summer months, although it is now being cultivated in the eastern Crete. It makes a pretty garden herb plant.
Several different euphorbias were shown, some of which were photographs from John's greenhouse in London where he has produced splendid Euphorbia characias (autumn-flowering) plants from collected seed. However, he explained that they do not flower in the UK. This is a plant very much taken for granted by those of us living here and they are stunning when in flower. At this point, in response to a question, John described seed collecting, giving the efficient example of placing the seed head inside a paper bag ready to catch the exploding seeds when completely ripe.
Among my favourites were three pictures ofthe stunning Paeonia clusii photographed in different locations on Crete. This plant is native to Crete and Rhodes (ssp. rhodia). I had hoped to see these flowering, but when visiting a recommended site the following week, very few were in flower and were inaccessible due to the inhospitable terrain leading up to them. This must be one of the most beautiful plants on Crete. It is an endemic of woodland, scrub, garrigue and rocky places and flowers between March and May. Its colours range from white through the pinks.
Petromarula is a genus of plants in the Campanulaceae family. There is only one known species in this genus, Petromarula pinnata, and it is endemic to Crete. I was delighted to discover this growing in my own garden in a gulley area cleared two years ago from dense growth of bushes, ivy, overgrown wild almond and olive trees. Here I am encouraging the self-seeding of plants from my own meadow and natural seed distribution. I have admired Petromarula pinnata in the wild for several years but did not realise that it was endemic; this makes it a very special plant in my garden.
It is impossible to mention all the plants shown and discussed in this write-up, so I have chosen those that had an impact on me personally; but it has been hard to leave any out. The final choice (given an allocation of only 10 photographs per article) is from the mountains in the 'Snow desert' 2,500 metres high and a contrast to the climate most people are familiar with on Crete.
John described this area as being 'stuffed with endemics', such as Centranthus nevadensis subsp. sieberi (syn. Centrantus sieberi), a rare endemic of the White Mountains, about 30 cm in height and growing in scree and calcareous rock crevices, flowering in June and July. Anchusa cespitosa, another rare endemic flower here, has tiny dazzling blue flowers with hairy leaves to collect what little humidity there is at night.
Crocus sieberis subsp. sieberi is a superb endemic spring-flowering crocus. It blooms just as the snow melts and is therefore unpredictable. Its sepals are white on the inside and suffused with purple to violet/black on the outside.

Crocus sieberis subsp. sieberi
Most of us love wild flowers but are not sufficiently knowledgeable about those which are endemic to Crete. For example, when creating a garden, many people clear their land of everything 'wild' before planting their bought-in plants, often in ignorance of what is already there. With greater awareness, perhaps we shall value them more and 'do our bit' to help preserve these special plants. John placed some emphasis on a selection of wild flowers worth growing or looking for in the garden, even if they are not endemic. The MGS Seed Bank is an excellent resource for this purpose.
This excellent and fascinating presentation was followed by a delicious buffet of traditional Cretan food provided by the local taverna, in the friendly and lovely ambience of this unique setting.
With many thanks to John Fielding for sharing his enthusiasm, expertise and high quality photographs with us. All photographs have been taken by and provided for this article by him.
Text by Valerie Whittington
March 2015
MGS Tour of Morocco
Eleven of us from Crete went on the MGS tour of Morocco. Given that there were 24 participants in total, we made up a significant proportion of the group and it was a highlight of our own annual programme, hence this write-up for our web page. Many other members from our branch have asked to hear more about our experiences. One aspect we all enjoyed very much was meeting up with others with similar interests and enthusiasms from elsewhere. Rosemary Thomas has written her personal account of the trip, including photographs, below:
After arriving at Agadir Airport in bright sunshine, we were met by Abdul our driver and whisked away to Taroudant and the simply magnificent Dar al Hossoun.

Dar al Hossoun
You would never think as we were driving down dusty rough tracks past what seemed like a continuous mud wall that through the estate gate would be a paradise.
Dar al Hossoun is a very special place, a sort of 'world within a world' and the owner Ollivier was there to greet us all. He had a difficult time keeping us together to sort out our rooms as everyone wanted to explore straight away. We could see deep plant borders, exotic flowers and collections of large terracotta pots all waiting to be investigated and noted. We were patient, but the excitement in the group was electric.
The rooms are laid out around the estate, all individually styled, understated, but with beautiful authentic rugs on the floor and walls and brimming with traditional artefacts. The estate has been developed from 15 acres of former olive groves and the beautiful extensive gardens are a joy to see. We were greeted by Ollivier's assorted dogs, cats and the resident peacocks who roam around the estate at will, adding quite a regal touch to the gardens.
The more than 900 different species of plants collected from all around the world – mainly cacti, succulents and palms - are just magnificent. As soon as you enter the property, it is evident that this is a special place and I was simply overwhelmed by the scale and quality of the plants, of which there are so many different types; I was very impressed by the Euphorbia tirucalli which had grown to a height of at least ten metres.
This was truly a wonderful place and a great place to start the tour.
Our group from Crete arrived a day early since this was the only way to travel by a direct flight. As this was an extra day and not part of the itinerary, Ollivier organized a day out for us to see some of the wild landscape and enjoy a traditional lunch.
First we went into the town of Taroudant to the ancient tanneries, which is not a place for the faint-hearted or anyone without a strong stomach. It's fascinating and very smelly to watch the men working with ox, goat, lamb and camel skins, taking them through the long, long process in order eventually to have a product fit for bags, shoes etc. After a bit of retail therapy in the tanneries shop, we left with a much higher regard for leather.
We then drove out into the surrounding hills and walked with Ollivier down to an oasis which was surrounded by palms and fast-flowing rills of water coming straight off the mountains, very green and very beautiful. We were all surprised by the fertility of the land, not a dry barren landscape at all, maybe that comes later in the summer.
We had lunch in an open-sided tent sitting on rugs on the floor eating tagine, which was cooked in the traditional way over coals right outside, just perfect.
Ollivier introduced us to the family who were our hosts and told us that they had met when he was looking for a farmer to grow organic produce for the hotel. This was a very successful business for the farmer as the land is so fertile. Later, the family were asked to provide traditional lunches in a Bedouin tent for guests from the hotel from time to time. They agreed, but now the farmer and his family are finding themselves hosting so many lunches and events and so greatly enjoying meeting people that they don't have time to farm any more and Ollivier must find another farm for his produce, a lesson learned.
After lunch we had a walk through the oasis to look at the work of some of the local stonemasons who were working with soapstone. They were carving the stone using very simple tools and all by hand, very impressive skills. By now it was late afternoon and we had to make our way the way back to Dar al Hossoun.
By dinner time that evening the whole group had arrived.
Thursday (first day of the tour): Over breakfast we at last met our tour leaders Chris and Başak Gardner. Chris is a botanist and plant photographer, and together with his wife, Başak, he wrote the book Flora of the Silk Road. Chris's arrival at Taroudant had been delayed as he was flying in from Costa Rica and Başak was held up at Casablanca Airport.
It was good to meet them both and Chris wasted no time in giving the group a briefing of what to expect on the tour and confirmed the itinerary.
During our first morning Ollivier gave us a complete tour of the gardens of Dar al Hossoun, along with the story of how it all began as the dream of the architects, Arnaud Maurières and Eric Ossart, and how eventually they sold the estate to Ollivier to be his private home. He later decided to open it to paying guests to help with the running costs and because he liked people and wanted them to see this beautiful place.
We were escorted on the tour of the garden by Ollivier's two small dogs, very pretty sisters rescued as puppies from the side of the road. Ollivier described them as being Moroccan corgis; they were very amusing and very naughty.
The buildings on the estate are all made using the traditional rammed-earth construction, which provides insulation against heat and cold. The only concession to modern living is the use of large picture windows for light.
The design of the garden is focused on the fabulous water features. The main pool in the courtyard is a traditional long Islamic-style pool (just 3m wide by 29m long) inspired by the Alhambra in Granada, with walkways along both sides, and small ponds to the side planted with Cyperus and Thalia. The second pool in the Al Borj courtyard is similar but a little smaller.
In the main Al Hossoun courtyard there were some outstanding plants, but I really liked the Pachypodium lamerei, the fabulous Bauhinia gardneri and Aloe divaricata; there was also a magnificent blue palm which really caught the eye and all the plants were in perfect condition.
We continued around the garden until we arrived at the sunken garden area. This huge hole is where they excavated the soil to build the riad; instead of building a swimming pool here, they decided to create a sunken garden, accessed by wide stone-terraced steps interplanted with a variety of succulents going down to an area with its own microclimate, allowing some tropical fruit trees, bananas and Clivia, as well as palms and more succulents,to flourish.

Dar al Hossoun, sunken garden
The riad has an orchard of lemons, oranges and grapefruit and a labyrinth of pathways and connected courtyards that encourage you to walk all around the estate, finding new garden rooms at every turn, each with its own character, and I was continually passing majestic plants. You could hear the peacocks scratching in the undergrowth, and all the time I kept stopping to think 'that's a nice plant, I must find out the name', then you would bump into another member of the group doing exactly the same thing.
Clearly, this garden, although well established, is not standing still. While staying true to the original design, Ollivier and his gardeners have plans to continue to develop the planting with new species and cultivars in the future. The garden has a large nursery area where the gardeners continually propagate new plants from cuttings, seeds and offsets from succulents. You can also spot 'air layering' taking place on some trees and shrubs. Even though Ollivier inherited this garden when he acquired the house, he has a very hands-on approach and is involved in both the choice of plants and planting schemes, and I am sure Dar al Hossoun will continue to thrive.
After a long morning admiring Dar al Hossoun, we left to go to Taroudant for lunch in the spectacular Riad Miryam. These places have to be seen to be believed. You enter the riad from the street through a very small, insignificant door and enter a magical place. We ate an amazing lunch sitting at tables in an inner courtyard, with a roof open to the sky and surrounded by flowering trees and plants.
After lunch we visited a garden just outside Taroudant belonging to Andrew Patrick. This was another walled estate where we entered through the large wooden gate and turned a corner to be met by a beautiful white rose garden in front of the main house. This was going to be the start of something good. Andrew was a delightful man who happily allowed us to walk around his garden and look inside his fabulous home too.

Andrew Patrick's white rose garden
Andrew bought the plot of land for his house and garden ten years ago and spent much time preparing the soil prior to planting. This was clearly evident, as the growth rate of his plants was amazing: he had four Euphorbia ingens that were tree-sized, amazingly grown from two-metre plants in only ten years, in fact all his succulents had a very good growth rate. It must help that he is gardening on sandy soil and not bedrock.
His three young gardeners were working, and all had beaming smiles at the sight of all these visitors gasping with delight and admiration at their achievements in the garden. They were so knowledgeable about their plants they could have worked at Kew.
The garden was outstanding, with the water feature again taking pride of place. As at Dar al Hossoum, it was the traditional Islamic long pool with a fountain at the head, lovely to walk down surrounded by bougainvilleas and scented plants.

Water feature showing the Islamic influence
When you carried on through the garden, you arrived at a collection of large Moroccan pots planted with assorted succulents such as Agave horrida (syn. A. desmettiana)'Variegata', Agave victoriae-reginae and Kalanchoe blossfeldiana, all in superb condition: this was my favorite spot and great source of inspiration.
The walk around the garden took you to lots of different areas including the guesthouses, all with their own terraces and all planted with both scented plants and succulents. Every terrace had a different water feature, from fountains to small square tiled pools; I thought it was fabulous. We finished our visit here with afternoon tea on the terrace with Andrew, a truly delightful man.
Friday: After another hearty breakfast, we set off on another bright and sunny day to visit the huge estate of the artist Claudio Bravo, who hailed from Chile but later chose to live in Morocco until his death in 2011. His home and garden are now a sort of private museum and I feel very lucky to have visited this place.

Claudio Bravo's estate – main entrance
We arrived and parked outside the main house which was fronted by a huge border of well-established Echinocactus, Furcraea and Agave species, all spectacular plants: they certainly got my attention and the textural effect with the large stones and gravel was very pleasing. As we entered the main house through the huge front door, it was clear that this house is indeed a palace; we walked slowly through various sitting room/bedroom/bathroom areas, all with stunning artwork on the walls, some rooms with original works by Picasso displayed (Picasso was a close friend), so much artwork it took your breath away - the antiquities in the house were outstanding and we were allowed to look at everything. The artists in our group were having a lovely time, especially when we arrived at the studio where the great man sat and worked. You almost wanted to get down and kiss the ground, it was all so amazing and we hadn't got to the gardens yet. As one might have expected, the courtyard gardens were immaculate on a very grand scale; tree-size palms graced every courtyard, under-planted with dozens of clivias, all very stylish. The water features and stone fountains in the inner courtyards are just fabulous. Claudio's life in this huge palace is so removed from our own lifestyle that it is difficult to imagine, but his home was a great source of inspiration and you could cherry-pick little ideas for yourself. This was a house and garden on a very grand scale just bursting with art, antiques, statuary and culture; we were very privileged to be allowed to visit it.
After morning tea overlooking his private lake (unfortunately empty for cleaning), we were to leave this amazing place, only to be invited to come and see the palace stables and meet the Arabian horses owned by the estate. This was a great and unexpected treat - we met the resident magnificent stallions, mares and foals, were shown the rosette room with all the awards the horses had won in competitions along with all the authentic Arabian classical saddles which were kept there; again the grooms who cared for the horses were so delighted to be showing off their charges that they wanted to show us everything!
When we finally managed to leave, we set off back to Taroudant to visit the home and garden of Karl Morcher.
This was a private house and garden quite different from that of Andrew Patrick. It was a much bigger estate and the gardens were laid out with lawns, mature trees, olive groves and stunning outside terraces.
Karl gave us a personal tour around the garden, showing us his most precious plants, and I got the feeling he was a hands-on gardener who did a lot of the work himself. He had been gardening on this site for ten years and, once again, the growth rate of the plants was quite astonishing. Clearly Morocco has an excellent climate for horticulture.
A long narrow pool with fountains at the end took centre-stage on the lawns, which were surrounded by lots of mature trees giving welcome shade, but the most spectacular tree on show was a Ceiba insignis with its amazing thorny bark, very lovely.
Karl also had a pair of lovely flowering bauhinias in his reception courtyard, it was all very sculptural.
The main house was a masterpiece of modern architecture with very large airy rooms and again Karl was very happy for the group to wander around and admire his amazing collection of North African art.
Karl's home was a perfect example of house and garden merging: wide sitting room doors opened onto wide terraces and all the lines became blurred, citrus trees on the terraces gave off their lovely scent ­­- it was all so peaceful.
We finished our time here with a delightful lunch with Karl and Ollivier, served on the shady terraces around the pool, even the poolroom was glorious, I could have lived in it. We finished the day with a visit to the souks of Taroudant, a mini Marrakech and very lively, a great end to a lovely day.
Saturday: We left Taroudant, again in bright sunshine, to go on a journey to Marrakech and Chris told us that we would be taking the most scenic and exciting route over the Tiz'n'Test pass. This was a great drive through acres and acres of argan trees, a widespread and crucial tree for this area because of its valuable oil. It was a very clear and sunny day and the views were amazing. Chris had briefed us on the wild flowers we might see, and he was right, we passed abundant Asphodelus fistulous, a smaller version of the asphodels we get here on Crete. As we drove on, we saw a lot of Polygala baetica and Helianthemum.
We stopped for our picnic lunch at a café at the top of the pass and sat outside as the sun was shining, weather-wise so far so good.
Our long descent took us through beautiful green river valleys with villages here and there clinging to the mountainside, farmed terraces everywhere. No cars or trucks here though, it is all donkey power still, fruit trees in blossom everywhere. Chris thought they were probably peach and cherry trees as they are big business in Morocco.
This was a long day, and when Marrakech came into view, it was a very welcome sight.
We arrived at Riad Aljazira, unpacked, had a lovely dinner, a short briefing from Chris about what we were going to do the next day and then fell into bed, after yet another very satisfying day.
Sunday: Now I will say more about the lovely Riad Aljazira, the buses dropped us off on Saturday evening in a little square somewhere in the city, we were then led through the backstreets of Marrakech to what can only be described as a tunnel in a wall, this was the entrance to Riad Aljazirz. Alan had to walk bent over through the tunnel to get to the small entrance door of the Riad, however, once you have stepped through the door into the interior, it was overwhelming, high ceilings, lots of space and passageways which opened on to yet another enormous courtyard - I loved it. Cool and contemporary with a pool in the central courtyard where we had our breakfast and dinner, so beautiful, all the plants in pots were perfect, a very stylish and comfortable hotel.
We had a very organized day on Sunday, starting with a guided tour around Marrakech to see the souks and on to the stunning Ben Youssef Madrasa where we spent a very pleasant hour taking in this magnificent building; after this we went to the world-famous Majorelle Gardens.
This was one of my highlights, a place I have always wanted to see and I couldn't quite believe I was there, it was amazing. The weather was good, which helps, and it was everything I thought it would be, the colour used on the pots, the amazing cactus and succulents; I was in heaven.

The Garden at Majorelle
Again, even though it was on a very large scale, you could see ideas for your own garden, just scaled down a bit.
The golden barrel cactus, Echinocactus grusonii, is always a favourite of mine, as is Euphorbia ingens, but there were so many plants: agaves, aloes, the number of different species was breathtaking. A truly glorious place to visit - however, if I go again, I will go first thing in the morning before the main crowds as it does get very busy.
From Majorelle we went for lunch to the Riad Enija in the old town, this was another stunning riad, and it is so exclusive it doesn't even have its name on the door or the street corner.
A lovely lunch was enjoyed by all in an inner courtyard that was just too beautiful to be believed. We were then invited to see the other two courtyards which made up the riad and, again, the palms, tropical trees, succulents on show were all outstanding, a lovely place to stay right in the middle of the souk.
Monday: We had come to the end of the 'gardens' tour part of the trip now and the wild/native flower enthusiasts would get their turn. Chris had briefed us all about the number of different flowers we could expect to see in the next four days, it was all down to the weather, but he was confident we would see some amazing flowers.
After breakfast the group set off in the buses for Imlil, the scenery along the drive was spectacular and the High Atlas Mountains provided a stunning backdrop to the landscape. The buses climbed and climbed, passing several villages clinging to the mountain slopes. Chris did indeed find the Narcissus rupicola on a very steep scree slope that some hardy group members scrambled to see; we discovered that searching for flowers in the wild turns people into mountain goats. When we finally parked the buses at the top of the pass, the keen wild flower seekers were off searching for plants to photograph while the rest of us just enjoyed the most breathtaking landscape. The Atlas Mountains are so magnificent they truly take your breath away and we were fortunate to see them with a good covering of snow on the top: very, very lovely.

Plant hunting in the High Atlas
When all the plant hunting was finished, we set off down the mountain back to Imlil for lunch. Chris and about ten of us decided to walk to Imlil for the last stretch which took about an hour, but it gave us a real feel of the area and a chance to see the farms and homesteads up close. All down the mountain the slopes are terraced for farming, with fruit trees in full blossom and huge walnut trees everywhere.
After lunch we made our way back to Marrakech, stopping several times to search out more native flowers. One of the things I noticed was just how much wild lavender there was, it was everywhere, and we also saw more Polygala and lots of Calendula.
Tuesday: This day we were all given the choice doing our own thing; the serious wild flower members went with Chris to Amizmiz for the morning to look for Narcissus and Lygos raetam. We chose to stay in the city and make the most of our last day in Marrakech, we took a taxi to the new town to have a look around and then we walked all the way back to old Marrakech passing some very imposing buildings. We stopped at the 'Artisan Centre' in old Marrakech to look for gifts and have a coffee. This is housed in a lovely old building and is a centre set up to showcase the best of local handicrafts. We liked it as it was all fixed price, no haggling, thank goodness.
After lunch twelve members of the group went to 'La Mamounia Hotel' to have tea and see the very impressive gardens of this five star hotel.
This is by far the grandest hotel I have ever seen, there is nothing in London to match the completely over-the-top oppressive grandeur, just getting through the door was a challenge for the group and we had to enter in two separate parties of six, don't ask why!
When inside, we went to look at the gardens which are very extensive and manicured with beautiful trees and shrubs and two very long English-type herbaceous flower borders, all perfect but a bit soulless. They had a gardener constantly sweeping up leaves from terraces and lawns and his little cart was being pulled by a donkey, all very photogenic. Also along the side of the hotel was a very handsome cactus and succulent display, some really lovely plants in here. The most interesting part of the garden was the kitchen garden, growing vegetables for the hotel restaurant. This was very impressive and a credit to the gardeners who worked there as all the plants looked very healthy.
Wednesday: We left Marrakech to travel through the middle Atlas, past lots and lots of agriculture and lovely areas of acres of wild poppies and Anthemis, many stops to take pictures and to search out other flowers, I also saw a lot of wild lavender.
We carried on to arrive at the Cascades d'Ouzud waterfalls. We had time to visit both the upper and lower falls and they are spectacular and very popular with locals as it was quite busy, but we were warned to be careful as they are completely unfenced and quite precarious in places.
I saw both yellow and pied wagtails on the river at the top of the falls, a nice little extra to be enjoyed. We all gathered to have a picnic lunch near the falls and we all sat in the sunshine.
After lunch we carried on towards Afourer, stopping to check out the truly amazing populations of Euphorbia resinifera that seem to creep for miles over whole mountainsides, a very impressive sight indeed.

A hillside of Euphorbia resinifera
We stopped several times for photographs as the landscape was breathtaking, and for the wild flower enthusiasts to look for plants.
We arrived at Le Tazarkount, our hotel, at around 6 p.m; a surprisingly big, old-fashioned hotel in such a quiet part of Morocco, our room at the back had the most outstanding views of the Atlas mountains.
Thursday: This morning Chris took a group of six of us out early to find Erinus thiabaudii on a mossy bank just half an hour out of town. We drove uphill in cold pouring rain to find one plant, we must have been crazy, but we found the plant and as a bonus we spotted a couple of small orchids Then the rain stopped and the clouds parted a little and we had fantastic early morning views looking down on to Afourer, well worth getting up early.
This day the weather started to change, it was colder and no sunshine forecast, so time to put the thermals on and get the windproof jackets out.
We started heading up into the mountains towards Ifrane, a popular tourist resort high in the mountains where the king also has a large palace to escape the city heat in summer.
We stopped several times in the foothills to look for plants, among the flowers found were Fedia cornucopiae, Echium plantagineum and lots of poppies, Ismelia carinata (syn. Chrysanthemum carinatum) and Lavendula pedunculata.
Before we knew it, the whole morning had passed and it was time to find somewhere to stop for our picnic lunch, we eventually found a spot by the side of the road and stopped. But it was so cold! We needed lots of layers of clothing and the sunshine of Marrakech was well and truly behind us.
After lunch we started the long climb to Ifrane and the limestone uplands with stands of cedars.
When we reached Ifrane, there was new snow on the ground and it was very cold. We checked into a hotel called 'The Grand' that Chris described as a bit 'crusty round the edges'. It had quite clearly seen better days, some rooms better than others and the disco in the bar (for the locals we presume) heard by some until 4 a.m. in the morning didn't help, but the staff were pleasant and the meal in the evening was very nice.
Friday: After breakfast we were off and heading up to the very famous high cedar forests of this area, with plenty of snow around and some very old and very tall trees. There were also plenty of wild Barbary macaques to see, most of them happy to pose for pictures and a lot of locals feeding them (a very bad idea).
We found many Raffenaldia primuloides and lots of other plants I didn't find the names for; I was a little wild-flowered-out by now and left the plant hunting to the real enthusiasts.
After a couple of hours in the forest we drove to a series of high lakes with an amazing profusion of wildfowl, including the ubiquitous egret, a lovely bird that is seen absolutely everywhere in Morocco.
Chris took us to find huge areas of the beautiful Androcymbium gramineum and Linum austriacum, all growing in an area where just a few weeks earlier there had been snow. These plants were very lovely and the 'alpine flower' friends among us were very happy to see them, so a good day for them. It was still bitterly cold and we were all grateful to be back in the bus and on our way again.
Due to the cold we stopped at a café for lunch. The owners were kind enough to allow us to make our own picnic inside if we bought our coffee and tea from them - a very happy compromise, I think. After a long lunch we set off for Volubilis via Fez (a little extra as we were so close), arriving at the hotel about 6 p.m.
Our hotel was positioned above the plains and had a superb view of the roman ruins at Volubilis. As the sun was going down the whole area had a slightly biblical feeling to it ‑ a landscape undeveloped and unchanged since Roman times.
Saturday: We spent the whole morning exploring the ruins at Volubilis; a fascinating site with many wild flowers, along with the ruins and mosaics, there was a lot to see.
We found a lot of Urospermum dalechampii, Centaurea pullata and a whole bank of Ornithogalum umbellatum plus many, many other plants.
Our guide was keeping an eye on the sky and the weather system moving towards us and I don't think he wanted to get wet, he kept saying we should keep moving and he was right. The storm came in very quickly, we just got back to the coffee shop in time and then the heavens opened.
Having a guide was invaluable as he talked us around the site and pointed out the history behind the monuments and the mosaics and helped build a picture of what the city was like all those years ago. It helped me understand the site and make sense of a pile of ruins. After a lunch of hot soup at the hotel, it was on to Rabat and a visit to the Chellah.
The Chellah looks like a very imposing fortress, but after entering through a huge gate you are then in a walled city. All of the interior is in ruins, but still very beautiful. Now with landscaped gardens and play areas and also home to a huge colony of white storks who nest on every conceivable chimney, column and roof stack they can find; they build enormous twiggy nests and you could just see the babies' heads sticking out over the top (everyone was trying to get the best picture). After a very pleasant hour here, it was time to find the hotel in Rabat for our final evening together. Our hotel in Rabat was clearly popular with coach parties as it was quite busy, but very efficient, and the buffet-style evening meal had a lot of choice and was good quality.
We all said our farewells over dinner. Some new friendships will continue to thrive, but as usual, last nights are always a strange time as everyone is exhausted and has their mind set on the long journey home the next day.
The next morning we all had to be ready at 8 a.m. to get the buses to Casablanca to start our journeys home.
I enjoyed this holiday/tour so much because it was a mixture of garden design, garden plants, wild flowers and lots of opportunities to embrace the culture and history of Morocco.
The small town of Taroudant and its souks (and that tannery) was a revelation, the chance to see Marrakech as we did was truly wonderful. The high Atlas mountains on the first part of the tour and then moving on to the Middle Atlas on the second part did involve a lot of driving, but we were seeing so much of the country. I still can't believe just how much we saw, the memory of the mountains will stay with me for a lifetime.
It was all wonderful, with a very eclectic group of enthusiastic gardeners and plant hunters from several different countries.
While I enjoyed the whole trip, I shall never forget the first part. Dar al Hossoun was for me the highlight, a never to be forgotten experience, everything from the lovely individually-designed rooms, a host like Ollivier, to the kind of garden planting I can only dream of - a true paradise garden. Also the gardens of Andrew Patrick, Claudio Bravo and Karl Morcher were a great source of pleasure and inspiration. I still find it hard to believe that I have walked around Claudio Bravo's home and have seen his artwork on his walls. Andrew and Karl were perfect considerate hosts to a large group of people they had never met and very giving of their time and knowledge, many thanks to all of them.
And of course Majorelle: I came away from here wanting to paint all my pots deep blue or red or yellow. It is a very memorable place, too much to take in sometimes and a garden to go back to again and again.
Thanks to Chris and Başak for organizing this memorable trip. I for one will never forget it.
Text and photographs by Rosemary Thomas.
January 2015
An illustrated talk and garden visit, Kokkino Chorio, Apokoronas.
Our first event of the year was out on the wild, exposed headland, home to Liz and Bob Burlumi. It was an unusually glorious sunny and warm day for the time of year. This is still a young garden and a fascinating eco-friendly built house (with no mains electricity or water) with a 'natural' swimming pond. We were here to learn about Liz and Bob's botanical adventure 'across the world'.
Last January, they embarked on a three-month trip to see friends and family in Australia, New Zealand and Canada. As the first leg took them from London to Singapore, they decided to make the most of their proximity to Hong Kong and visit an old friend in Macau.
A flavour of the presentation follows by Bob:
'Macau was formed in 1577 as a Portuguese colony. It is now part of the Peoples' Republic of China and it is one of the richest cities in the world. With a land mass of twelve square miles and 624,000 inhabitants, it is also one of the world's most densely populated regions. The climate in Macau is humid and subtropical with an average yearly temperature of 22 degrees C.
There is no Botanic Garden per se in Macau, but beautiful parks and immaculate flower-beds are to be found throughout the city, even as part of indoor displays. For us, Macau's most notable botanical feature was the groundcover which the Macanese take to an unprecedented level with thick, glossy-leaved and often highly-coloured plants and shrubs uniformly filling in all available spaces. The effect was stunning but almost unreal – too good to be true.

Macau Hotel atrium with perfect precision planting
An enormous hotel complex slap-bang in the middle of the city boasted multiple atria, each planted out precisely and symmetrically with a variety of tulips, orchids, flowering cherry trees and hydrangeas. One shudders at the cost of maintaining areas the size of football pitches to that standard. Again, the plants and flowers were all in such perfect condition they looked almost artificial. It was our experience throughout Macau that both the hard and soft landscaping were of extremely high calibre - and never a leaf out of place.
Australia, Perth
Perth is located in the Western province of Australia. This city on the Swan River was founded by Captain James Stirling in 1829 and its population is just shy of two million. Perth enjoys average daily sunshine of 8.8 hours and an average annual temperature of 24 degrees C - slightly hotter than Macau - with humidity around 57%. Annual rainfall is 870mm.
Perth's stunning King's Park and Botanic Garden commands spectacular views over the city and the Swan River from its 400 square km prime position on Mount Eliza. The main entrance into the park is lined with eucalyptus planted in 1929 to mark the centenary of the city's formation. Almost every tree has a plaque at its base dedicating it to a member of the centenary committee as it was at that time.
Even after 70 years, the bond connecting Australia and New Zealand with Crete remains extremely strong and much in evidence were tributes to the war dead of WWII. Across both countries, on monuments, on statues and in fields of remembrance, was inscribed the word "Crete" along with references to other areas of conflict fought in by the allies. There is also such a monument in King's Park which forms part of a water-feature planted out with a variety of lavender.
On a brighter note, we were impressed by the information centres at all the parks and botanic gardens we visited throughout Australia and New Zealand. The staff at these centres, most of whom were volunteers, possessed extraordinarily in-depth knowledge about and obvious love for their particular garden. The brochures, pamphlets and data sheets we collected were beautifully presented and the signage throughout the parks and gardens was clear, informative and easy to read.
On this, our third, visit to Australia, the penny dropped as to the significance of the contribution made to botany in the 1700s by Sir Joseph Banks, chief botanist with Captain Cook. Banks' name has been associated over the centuries with hundreds of plants throughout Australasia and the Pacific Basin – a legacy for the benefit of future generations.
A great many of the trees, shrubs and plants in the gardens were used by the Aborigines as food ("bush tucker") or to create some form of medicinal preparation. Various seeds were eaten raw as a great-tasting snack; gum from the bark of eucalyptus provided a wealth of resources and strong twine from other species could be fashioned into useful implements. In common with the Greeks, the Aborigines grew trees and shrubs that would provide them with something edible or useful rather than simply something pretty to look at.
One of the highest spots in the gardens was a baobab, which was a surprise as we had previously imagined this species to be indigenous to Africa. This particular tree had travelled 3,200 km from Telegraph Creek near Warmun in NW Australia. It was estimated to be 750 years old and was re-planted in the botanic garden in July 2008. This was apparently the longest land journey of a tree of this size in history. The tree had to be moved to make way for a new bridge and so it was that the Gija people of East Kimberley in the great northern highlands gifted the tree to the people of Western Australia. It took six days to truck the tree from the Ord River to Perth.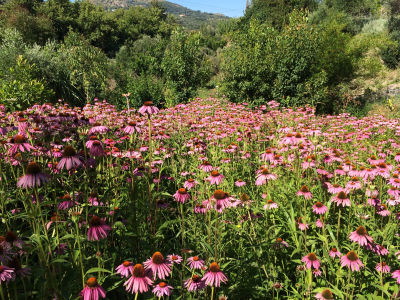 750-year-old baobab tree in Perth Botanic Garden
Last but not least, cycads whose ancestors existed 250 million years ago were on display in these gardens. Their tough, sharply-pointed and leathery fronds once protected the plants from grazing dinosaurs. There are 185 living species of cycads – 69 in Australia, but just three in Western Australia.
Melbourne
Melbourne in the state of Victoria was founded in 1835 and named after a British Prime Minister. The city straddles the Yarra River and has a population of 4.4.million. It is said that Melbourne is the fourth most expensive city in the world. The climate is oceanic with an average annual temperature of 19 degrees C and a high rainfall of 1250mm, and with humidity averaging 53%.
The Royal Botanic Garden was constructed in the 1800s and, in spite of all the changes that have taken place over the years, the early settlers faced similar challenges to those we face today: securing, storing and using water wisely. This has always been a major concern for the gardens, but now there is an even greater test: climate change. This has led the management team at the gardens to rethink their modus operandi on the driest inhabited continent on earth. For sustainable gardening, smarter plant selections, a greater understanding of the local climate and conditions, and a better use of resources are paramount.
The park was extremely well supported by the general public and tourists. It was delightful to see a game of cricket in progress within the grounds on the perimeter of the park.
The main feature in the Royal Botanic Garden was a man-made mound known as Guilfoyle's Volcano, which supported a very large water-tank that fed recycled water around the park. The mound was beautifully landscaped with cacti, palms and succulents. In the water-tank were several floating islands made of recycled material. The roots of the plants hung in the water helping to trap fine particles and absorb nutrients.

Melbourne Botanic Garden - Guilfoyle's Volcano planting

Melbourne Botanic Garden floating island
We visited the magnificent Fitzroy Gardens on the edge of Melbourne's Central Business District in the middle of which is a small, old and typically English farmhouse. This was once the home of Captain James Cook in Yorkshire, where he was born in 1728. The building had been donated to Australia as a gift, shipped from England - and brick by brick, tile by tile, re-erected in the park.
Another great attraction in this garden is the Fairies' Tree carved by sculptor Ola Cohn in 1930 as a gift to the children of Melbourne. The base of the tree, one of the original Red Gums, is delightfully decorated with fairies, elves, gnomes and several animals including a bat, flying foxes and koalas.
Probably the most stunning feature of Fitzroy Gardens is an avenue of elms that had been donated by the United Kingdom at the turn of the century. Both the Royal Botanic Garden and Fitzroy Gardens were irrigated using recycled water. This water is treated storm-waterharvested from the neighbouring streets, reducing the annual water consumption by up to 40%.

An avenue of elm trees in Fitzroy Gardens Melbourne
Sydney
Sydney is located in the state of New South Wales and was founded in 1788 as a penal colony. It now has a population of 4.4 million. The El Niño Southern Oscillation plays an important role in determining Sydney's weather patterns. The annual rainfall is 1222 mm and the average maximum temperature is 22 degrees C.
The Royal Botanic Gardens & Domain Trust has sponsored a series of information boards around the park on many different subjects. Two in particular caught our attention. The first was an attempt to persuade gardeners to plant groundcover instead of lawns and to ditch their lawnmowers. The second was about finding grasses suitable for the climate and able to tolerate drought.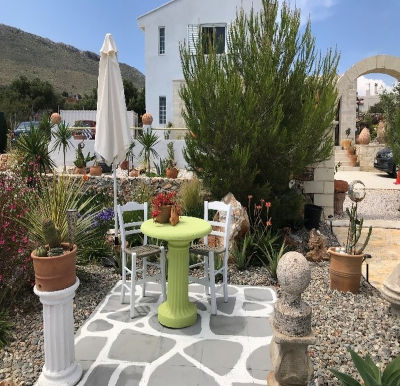 Sydney Botanic Garden sculptures
A yellow sandstone monument in the park carved in 1870 by a Sydney stonemason is a replica of the choregic monument of Lysicrates dating back to 334 B.C., which can be found not far from the Acropolis in Athens.
New Zealand, Auckland
Auckland, in New Zealand, was founded in 1832. It was the capital city for 24 years, but since 1865 Wellington has held this honour. New Zealand ranks third on the world list of best places to live and around a third of its population of 1.4 million is based in Auckland. Within the boundary of the city of Auckland are fifty volcanoes. Over the past 90,000 years there have been 90 volcanic eruptions. Auckland's average annual temperature is 19 degrees C with a rainfall of 1212mm and an average humidity of 82%.
A prime feature of the Auckland Botanic Garden was the collection and treatment of storm-water. This is achieved through the absorption of water by a living green roof. Any run-off gently flows down the chains underneath to a vegetated swale area. The swales used native plants to slow down and filter the flow of water which is then delivered in a relatively clean state to the lakes within the garden. The building that had been selected for this process was in fact a public convenience constructed out of local timber.

Auckland Botanic Garden Eco Building with green roof and swale
The herb garden had a huge pot bearing the sign "Go on – have a taste!" We did. It was delicious. It turned out to be a chocolate mint plant.

Scarecrow at Auckland Historic Village Garden
Vancouver, Canada
Vancouver was originally named Gastown in 1867 and renamed in 1886. It has a population of 2.3 million. The climate is temperate rainforest with annual rainfall of 1152mm, humidity 70% and an annual average temperature of around 10 degrees C. However, with wind chill, the temperature can drop to -27 degrees C and it is not unusual for Vancouver to have one metre of snow.

Vancouver City Stanley Park Lake at dusk
We visited Stanley Park, which is on the north-west side of Vancouver city. It is a beautiful, natural park with an enormous lake and some of the tallest trees that we have ever seen. When we arrived, it was spring and azaleas, cherry trees, daffodils, bluebells and tulips were all in bloom and looking magnificent.

Vancouver City avenue of ornamental cherry trees
We spent an afternoon wandering around and exploring some of the 55 acres that make up the spectacular Vandusen Botanical Garden, which first opened to the public in 1975. The beautiful landscaping includes a wide variety of plants from all over the world as well as stunning works of art and sculpture including totem poles, a maze and a Korean Pavilion. The Visitor Centre is one of Vancouver city's most iconic buildings and a model of sustainability.'
Bob's talk was fascinating, with stunning photographs. It was useful to have the key climate data, which enabled us to compare and contrast with our own on Crete.
Following the presentation Bob explained his principles and philosophy in designing their lovely environmentally-friendly house and garden, that is, integrating the garden design with the natural contours of the land and the surrounding vegetation. Over 800 small mediterranean/North African trees and plants as well as three mature olive trees have been planted.
A fuller account of the garden can be found on this webpage from a previous visit in May 2013, complete with several photographs. Just scroll down.
It was interesting to see how well the plants were maturing and developing in precisely the way Bob had hoped: very much in keeping with their natural surroundings.
Our shared lunch was enjoyed outside in the glorious sunshine and peaceful surroundings.
Photographs and presentation text by Bob Burlumi.