The Greek Branch of the MGS
Past Events 2017 2016 2015 2014 2013 Older
November 2012
Visit to the Centre of the Earth
At the end of November, members of the Greek branch of the MGS visited the Centre of the Earth. It did not involve descent into a mine shaft or any special equipment. In fact, it proved to be just a short distance from the heart of Athens, adjoining the city's biggest park, and an estate once owned by Amalia, the first queen of Greece.
The Centre of the Earth or Earth Center (Κέντρο της Γης) is the headquarters of a new NGO called Organization Earth (Οργάνωση Γη), which was founded in 2008 by a group of young Greek businessmen who want to raise awareness of environmental issues and bring Greeks, especially children, closer to nature. One of its features, a 'biodiversity garden', was conceived by MGS member Penny Turner, who previously created a series of walks and wrote an eco-guidebook called Six Antidotes to Technology for the area around the Arcturus bear sanctuary at Nymphaio in northern Greece.
Although the garden was in the making for two years before it opened in January 2012, to the uninitiated it will look more like a weed-filled vacant lot than any property the MGS would set out to visit. But as Penny showed us in a wonderful slide show before our tour, this unprepossessing site is a vivid example of the miraculous power of nature to heal itself.

The site before intervention
Photo by Penny Turner
Originally a sheepfold, the soil resembled clay more than earth. It was poisoned with heavy metals and littered with rocks and rubble. After clearing, Penny and her team dug out some ponds. As she said, 'Nature flocks to ponds and the area would benefit from its proximity to the Tritsis park' (900 acres/364 hectares of greenery and wetlands).
'We wanted to demonstrate how nature can heal even the most devastated areas, so we prepared three experimental plots: in one was the original "soil" of the area, to the second plot we added slightly less damaged soil, and to the third we added compost. We never watered, planted or weeded. We observed and recorded what species were able to colonize the different areas. You can see very clearly after just two years what Nature needs in order to recover. In the areas outside of the experimental plots, we helped Nature by planting nettles, which enrich the soil, and the butterflies, for which nettles are a food plant, soon followed … And now it's a jungle.'

The jungle now around the pond
Photo by Diana Farr Louis
As slide followed slide, we watched the plots come to life and become the home of 'mini-beasts' that especially delight children: skinks and slowworms, rose chafers, newts, toads and frogs, 'which are always on the search for new territory'. Woodpiles were added to form habitats for predators of insects that attack vegetables, because in parallel to the biodiversity experiment, the centre planted a large, organic vegetable patch.

The vegetable patch with one of the centre's vigilant scarecrows
Photo by Diana Farr Louis
Viewed close up in Penny's superlative photos, each new creature and plant had us adults rapt, while Penny explained their function. The aloes, for example, help to remove heavy metals from the soil. The mallows, and there were a lot of them, loosen it up and prepare it for more refined flora.

Some of the new inhabitants: the marsh frog, Pelophylax ridibundus …

… the red darter dragonfly, Sympetrum striolatum …

… and the caterpillar of the swallowtail butterfly, Papilio machaon
Photos by Penny Turner
As we walked around the experimental plots, we learned that when certain plants become too dominant, they are weeded to allow for new growth, and that Penny collects seeds which she scatters to encourage variety. Other than that, nature is allowed to 'do its own thing'. Today, at least 200 species of animals and plants are thriving where only three years ago nothing at all existed. And of course, these numbers will only increase with time, until equilibrium is reached and a stable, vibrant biodiverse community will have been created.
One unusual feature of the Centre of the Earth is its 'poison garden'. Struck by the interest in the poison garden in the famous gardens at Alnwick in the UK, Penny decided to create a poison garden in the Athens project, too. In this case, the star attraction is the small grove of hemlock – people flock to see the plant that killed Socrates. Besides other deadly plants, the poison garden is also home to a number of invasive aliens.
As Penny said, 'Because such species are largely responsible for biodiversity loss in Greece and worldwide, we hope that by showcasing a few familiar, but harmful plants, we'll be able raise awareness of the inadvisability of allowing them to proliferate and wreak havoc. Included in our garden, according to season, are datura plants (introduced with cotton seed from South America), and the attractive-looking, but seriously invasive and harmful lantana – which is considered a noxious pest in Australia and which is attacking precious jungle areas in India. Quite popular here, it is poised to cause damage in Greece, as climate change is enabling it to prosper'.
Meanwhile, the centre is also attracting humans – 25,000 visitors in this first year of operation. They are drawn by its activities for children, the old stone farm buildings that house a well-stocked ecoshop, exhibits and a café, stables with horses, and the historic Tour La Reine – Queen Amalia's version of Le Petit Trianon, from where in the 1850s she ran her model farm.
The Centre of the Earth, next to the Carrefour-Escape Shopping Mall on Dimokratias Avenue in the northwest suburb of Ilion/Ag. Anargyroi, is open on weekdays from 08:30–16:30, Saturdays from 10.00 to 15.00 and Sundays from 10.00 to sunset. Go to organizationearth.org for more information.
Diana Farr Louis
October 2012
Visit to Dirfis Mushroom Farm, Central Evia
On our visit to Evia in search of mushrooms we were looking forward to watching cultivated oyster mushrooms grow, as well as tracking down chanterelles and porcini in the woods. In fact, our walk up a steep, wooded path that should have been studded with fungi produced only cyclamen, but the Dirfis Mushroom Farm was fascinating and held a special reward for gardeners. The farm is spread over several different properties in the vicinity of Pissonas/Steni in the pastoral foothills of bald Mount Dirfis, northeast of Halkida.

The Dirfis mushroom farm is located in very attractive scenery, not far from Steni, Evia
Our first stop, on a visit that took us from finish to start, was the warehouse/packaging building near Pissonas. There, Lefteris Lahouvaris, who founded the company with Thanassis Mastrogiannis in 2004, welcomed us with a brief introduction to the growing habits of Pleurotus ostreatus, and he explained the origin of the name: plevro (Greek) > pleuro (Latin) = side and otus = ear; ostreatus, resembling an oyster. Unlike button mushrooms, which grow best in beds of earth containing treated horse manure, these (and there are 45 types of Pleurotus) like to grow on the sides of trees, in the way that ears stick out from the sides of our head, and in shapes reminiscent of crustaceans.

Each mushroom has its own shape and beauty
Then we crowded into a tiny room lined with shelves where the company's products were displayed. While we were thinking which we'd buy, Lefteris regaled us with the therapeutic properties and nutritional value of the dried mushrooms collected in the district – chanterelles, porcini, morels – as well as truffles from Thrace. Who knew that mushroom teas, depending on the variety, are said to be able to boost the immune system, reduce blood sugar, lessen arthritic pains, and combat asthma – to mention a few of the benefits? Or that dried mushrooms contain more than 20 per cent protein, B vitamins, minerals like magnesium, iron, phosphorus, microelements with antioxidant properties like selenium, and dietary fibres? Moreover, lignin-destroying enzymes, which give pleurotus the ability to break down trees, are also believed to break up the cholesterol molecules in our own bodies.

One of the Pleurotus mushroom-growing 'hangars'
We then moved on to the cultivation 'hangars' perhaps a kilometre away, where the aroma of mushrooms hung appetisingly in the air outside. In this particular section, there were about seven hangars with mushrooms growing at different stages in plastic-wrapped bales of cellulose-rich straw and bran that make a perfect substrate or 'nest' for the fungi. The straw, from the plain of Thessaly, Greece's breadbasket, is pasteurized at another location and then injected with mushroom 'spawn' imported from France. It is pasteurized rather than sterilized in order to retain the helpful bacteria that promote the growth of the mushrooms.
After the bales are inoculated, they remain in a darkened incubation room for 15 days, but when they're taken into the lighted hangars that are kept cool and damp, holes are punched in the plastic, and it takes only three days for the mushrooms to burst forth. The more light, the faster the growth. They varied in size from about 1 inch to 10 inches, with 60 centimetres (almost 2 feet in width) the record.

Pleurotus can grow quite large!
The pasteurization plant, seven kilometres away to reduce any danger of contamination from the huge piles of untreated straw waiting for crushing, was an impressive sight as well. Every Friday 120 tonnes of material is lifted into an enormous tunnel, which is then sealed and left to 'cook' for three days. Dirfis uses some 200,000 tonnes of straw every year to produce more than 350,000 blocks of ready-to-use substrate.

Wheat straw from the plain of Thessaly goes into the substrate
where the mushrooms grow. Afterwards, it's used for mulch.
What's more, there is no waste. And here is the good news for gardeners: the used straw makes fantastic mulch, and Lefteris and Thanassis sell it cheaply to vegetable farmers. Interested MGS members should call Lefteris (who speaks English) at 6973496834 or email. You may find it could be yours just for the asking (and carting away). Also, if you'd like to grow your own Pleurotus, for 7 euros you can buy a packet of inoculated substrate that will keep you in mushrooms for about five months.
Diana Farr Louis
Photographs by Petros Ladas
June 2012
Surprises for Miyon Yoo Lee at Sparoza
Despite having grown up in Greece and studying environmental sciences in France, Miyon Yoo still found much to surprise her when she came 18 months ago as a garden assistant to Sparoza. She had forgotten that Greece effectively has two springs per year i.e. two hibernation periods (winter and summer). She started working at Sparoza in October 2010 and was amazed at its transformation from a dry, brown landscape to lush, verdant green after the first autumn rains. Miyon's experience in France had been academic so she loved gaining hands-on training, working with Sally Razelou, Sparoza's curator for the last 20 years. Miyon said her goal was to become an expert on Mediterranean flora and landscaping, and to increase her knowledge of recycling, composting and mulching.
Miyon told the story of her two years working as an assistant at Sparoza and showed her extensive and impressive slides to MGS members gathered in the Stoupa Cultural Centre, in the Mani peninsula in the Southern Peloponnese. She had found the past two winters to be entirely different from one another, with high rainfall in 2011 and a cold dry climate in 2012. A benefit of the lower rainfall was that Sparoza had 80 per cent fewer weeds to deal with in the second year!
Miyon's slides beautifully demonstrated the amazing mixture of local flora and exotic species to be found at Sparoza – a 'garden for gardeners' according to Sally Razelou. Orchids of the Ophrys genus, Salvia sclarea and Epiphyllum oxypetalum were particularly impressive. She told us how the garden is continuously developing, with new plants and new landscaping, including paths and walls, and explained how it depends on its volunteers and visiting students for help in the garden, and how it is funded by a mixture of donations, including those given at the twice-yearly plant exchanges, and MGS funds.
Miyon had thoroughly enjoyed her two years at Sparoza and hopes to find a new placement in Greece for the coming winter. MGS members in the Mani certainly wish her well for the future.
The evening and the MGS Peloponnesian 2012 spring programme was rounded off with a sumptuous meal at a local taverna overlooking Stoupa bay. As usual the food was delicious and the wine flowed freely. A good time was certainly had by all!
Text by Barbara Byrne and Sandra Panting
Photographs by Miyon Yoo Lee
May 2012
Visit to Andros
For examples of waterwise gardening, Andros would not be your first choice. Unlike the other Cycladic islands, it is criss-crossed with rivers, streams and springs, visible and subterranean. Water tumbles from high on the mountainside above Paleopoli, it gushes with such abundance at Sariza that it's bottled and exported, and even the drier west side has its shaded oases.
We chose Andros for our annual spring trip because a few of our members have houses there and knew what surprises lay behind imposing walls or steep, terraced plots. The eleven gardens on our tour ranged from palatial to intimate, minimalist to exuberant, productive to ornamental. Each reflected the owners' dedication, enthusiasm and love of plants, whether they were Greeks or foreigners, part-time or full-time residents.
Using the Andros Holiday Hotel outside the port of Gavrio as our base for four days, some 30 members and friends from Attica, the Peloponnese, Pelion, Samos, Syros, Mani and the UK visited properties above the south coast at Ano Aprovato and Paleopoli, in and around Hora on the north coast, in the lush interior at Lamyra and Menites, and in slightly less green Ano Gavrio and north-west Andros.

Catnip, Tulbaghia and Trachelospermum jasminoides.
The very modern, grey stone house at Aprovato was intentionally hidden from view. It blended into the landscape, as did the plants, which were chosen by our own Jennifer Gay. She and the owner wanted muted pastel colours and textures that would integrate with the surroundings. Although this is a young garden (about five years old), it is establishing itself nicely, despite the occasional harsh winds. Native trees and shrubs were introduced to complement the existing maples and oaks with maquis underplanting. We noticed lavenders, rosemaries, catmint, salvias, Tulbaghia violacea, Iceberg roses, evergreen jasmine, Podranea ricasoliana (pink trumpet vine), Echium candicans and aromatics such as oregano, sage, mallow and thyme, among others.
Nearby at Ano Paleopoli, conditions were quite different. The house was old and white-washed, and its owner, a well-known Greek landscape designer, showed that her talent extends to interiors as well as gardens. In this established, rather steep plot, similar plants – herbs and native shrubs, but also white peonies – were set in long narrow beds beside worn stone paths, with cypress windbreaks and pots set in wall niches. The lowest part of the garden was bare except for some magnificent 500-year-old olive trees.

Pathways lined with typically Mediterranean herbs and shrubs.

Peonies, a rarity on a Greek island.
At Lamyra the owners were worried that the garden was not at its best. It boasts an alley and a courtyard lined with Lagerstroemia indica (crape myrtle), whose pink blooms do not appear until August. But we were thrilled by their 'polished' mottled branches, the enormous araucaria and magnolia trees, the spacious citrus and olive groves with their whitewashed trunks, banks of white roses and hydrangeas, and the immaculate vegetable garden. The whole estate exuded calm and tranquillity.

The branches of crape myrtle (Lagerstroemia indica) are as beautiful as their flowers.

Gardening on a grand scale.
The next garden at Sariza, in mid-village, was a study in controlled confusion. Here red roses, purple irises, orange succulents and an amaryllis we dubbed 'raspberry swirl' mixed happily with chives, asparagus, lemon grass, sugar cane and ginger. This was a hands-on garden, as cosy and comfortable as a favourite armchair, with the exotica reflecting the owners' travels.

A perfect amaryllis, nicknamed Raspberry Swirl.
From there we took a short walk into the nearby Pithara ravine to gape at more Andros water tumbling from shaded rocks into mossy pools, which was more than enough to bring on hunger pangs.
After a lunch of traditional specialities in Hora's main square, our next stop was an 'urban' garden just outside the centre. Though small, careful planning gave it a feeling of space as orderly rows of lavender and creeping rosemary alternated with candy-striped pelargonium and an array of handsome succulents in front of a couple of lemon trees and oleanders. Amidst this elegant simplicity one exceedingly aromatic rose kept us coming back for another whiff.

The falls at the end of the Pithara ravine.

A rose by any other name would never smell as sweet as this one did.
The garden at Menites belongs to a member but is rented by a British artist and his wife. We parked at the famous lions' head fountain, then followed some 100 steps down to the house and its several levels. Water cascaded outside the front door and a stream at the bottom level bulged into a pocket-sized pool surrounded by dense plane trees. We admired pots of geraniums, amaryllis and cactus, but saved our greatest praise for our hostess's lemon cake and soumada, a drink flavoured with almond essence.
Sunday morning was spent at a 9000-square-metre working farm possessing not one but two rivers and spread out over a series of broad terraces (pezoules in Greek, aimasies in the local dialect). The farm, which had been featured in the February edition of Ktima & Kipos (a Kathimerini monthly magazine), exemplifies model, ecofriendly and organic practices, carried out scientifically with the aid of a soil technician and an agronomist. In addition to ornamental plants and flowerbeds closest to the house, the plot also incorporates an olive grove, a henhouse, a flock of sheep, a large vegetable patch and beehives. We seemed to pay most attention to the streamlined compost production and a talk on beekeeping by a former sea captain.

Maybe the most impressive old olive that we encountered.
We were also privileged to meet Elly Stamatiadou, a grande dame of Greek botany, close associate of Niki Goulandris at the Museum of Natural History, and mother of the farm's owner. Mrs Stamatiadou, now in her eighties, has combed the mountains of Greece for flora, collecting 25,000 specimens of rare plants, 40 of which had been hitherto undiscovered. She told us that 1055 different species have been identified on Andros alone and two are endemic: Trifolium andricum and Scylla andria. She has also had two plants named after herself: Veronica stamatiadae and Dianthus stamatiadae.
For lunch we went to a botanical wonderland, a private garden set in the middle of a vertiginous ravine, with water and bougainvilleas tumbling around boulders, ferns dripping with spray, geraniums, acanthus ... the most common of blooms transformed into an extravaganza of colour and drama. There we feasted on roast lamb, grilled chicken, salads from the garden, cheese pies, Andros omelette …, thus satisfying our appetites for all the senses.

A garden in a deep ravine.
Monday's gardens were all owned by expats. The first and second, both in Ano Gavrio, were both on a do-it-yourself-able scale. One, the passion of recent full-time residents, contains a vineyard and a vegetable garden as well as beds of silver-leafed Mediterranean ornamental plants, lavenders, rose geranium, salvias and a couple of graceful old olive trees. The second, whose owners had just returned from six months in England, was a happy blend of found cistus and planted oleanders, rosemaries, climbing roses, succulents and other hardy shrubs that don't need much water. Several people remarked on its similarity to Sparoza and the laissez-faire approach to 'volunteers'.
Our final garden was another mix of fruit trees, vegetables, ornamental plants and poultry, thriving on a series of very steep terraces, with a stream flowing alongside. The family declares they 'never' buy anything from the greengrocer. But beautiful flowers abound too – roses, irises, and a dazzling pink succulent that quite possibly would have won the prize for 'most flamboyant of the weekend'.

A neat vegetable patch.

The pink succulent was an unexpected star in this garden; it was imported from England.
Besides garden visits, we were also treated to a short film and talk on 'Andros and the threats to its habitats and flora' respectively by Olga Karagianni and her partner Alexandros Mavis, environmental activists who are dedicated to protecting the island from the twin perils of bulldozing in the pursuit of inappropriate development and the slower but no less invasive nibbling away of maquis and phrygana by free-ranging goats.
The ancient Greeks named Andros Hydroussa, the watery one. Amazingly, even today no one has been able to prove where that water comes from. Elly Stamatiadou gave us an explanation that is as good as any: under the Ottomans, a local pasha dropped a golden goblet into a spring at Karystos, at the southern tip of Evia, the nearest island to the west. Some time later, it bubbled out of a spring on the summit of Andros's highest mountain, Kouvara.
Whatever the source, that water makes Andros gardens hard to duplicate in most parts of Greece. After the weekend, we were told of many more we should have visited. Maybe next year?
Diana Farr Louis.
March 2012
Spring flowers at Rhamnous
They say that the ancient Greek city of Rhamnous, not far from Marathon, was named for the prickly shrub, Rhamnus lycioides ssp. graeca, a buckthorn species, that proliferates in the area. This made it all the more fitting for a botanical excursion. The site, which overlooks the Gulf of Evia, is dramatic, with stunning vistas, two temple foundations, a road lined with grave monument pedestals and a large fortress. The antiquities date from the sixth century BC to the fourth century AD, when Rhamnous was an important port – the only sheltered cove on the strait between Attica and Evia – and a military base. Normally, only the upper part of the site is open to the public, but we had arranged to be admitted into the lower fortress area and spent more than two hours prowling around.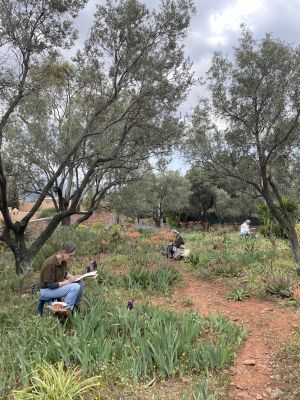 The fortress at Rhamnous.
Photo by Diana Farr Louis.

Walls of ancient houses.
Photo by Frosso Vassiliades.
But although we were hoping for a splendid array of anemones and orchids, we had to look hard for flora. The winter has been hard on this exposed site: snow, low temperatures and stiff northerly winds seem to have prevented spring from 'busting out all over' the way it is at Sparoza and in south-east Attica.
Nevertheless, the site did not disappoint and we had Sally Razelou with us to point out arcane shoots and blossoms. She also steered us to the footprints scratched into the base of the temple of Nemesis and she was the first to start collecting wild asparagus and Dioscorea communis (previously Tamus communis) (black bryony), which were growing 'like weeds' all over the site. Many of us joined her, gathering spears for evening omelettes, and they were delicious. Gleeful cries of 'another Dioscorea communis' could be heard as we scrambled around the fortress.

Dioscorea communis (black bryony).
Photo by Frosso Vassiliades.

Alkanna tinctoria.
Photo by Fleur Pavlidis.

Verbascum undulatum.
Photo by Frosso Vassiliades.
On the way down, Sally spotted Glaucium corniculatum, a horned poppy, with its burnt orange flowers and graceful leaves, Alkanna tinctoria, a ground-hugger with mauvey-pale blue flowers that she and Miyon had transplanted to Sparoza from the hillside above it, Scrophularia canina (dog figwort), and a lone bee orchid. Verbascum undulatum, of great beauty and in varying sizes (but no flowers yet), decorated the precinct before the entrance to the fortress. Almost all the plants were speckled with ladybirds (lady bugs to Americans).

Ophrys tenthredinifera.
Photo by Fleur Pavlidis.

Himantoglossum robertianum.
Photo by Frosso Vassiliades.
Returning to the upper level, we saw several more anemones – their colours seem more intense at Rhamnous – and finally a few orchids, including Ophrys tenthredinifera and Himantoglossum robertianum (previously Barlia robertiana). Once we saw one, we saw a dozen at least. Last spring, when I had gone to Rhamnous on my own, I spotted at least four different species of orchid in incredible profusion. And all within the upper level, so no special permission is required to seek them out.
Diana Farr Louis
February 2012
The Botanical Garden at Kaisariani
We've been to this very special garden adjoining the famous eleventh-century monastery on Mt Hymettus many times, but no matter how often, no matter the season, it's never the same. Something new is in bloom, something else attracts one's attention. As our guide, MGS member Sophia Pilavachi, said: 'We don't do any systematic planting. Plants are neurotic, they grow where they want to, so this is a natural botanical garden. All the salvias, for example, behave differently, and we have a resident botanist helping to recognise and label them.'
Sophia, who is the caretaker of the botanical garden, told us that the site is only 4,000 square metres, but it feels larger because it is shaped like a horseshoe on a steep slope and circles a small ravine. Though it was created in the 1960s, it was given a new infusion of plants 30 years later and in 1994 the EU proclaimed the whole site one of the 58 most important Historic Gardens and Architectural Monuments in Europe. Subsequently, the garden suffered considerable damage during the snowstorm of 2002. But in the past five years, a great effort has been made to clear the paths and free the plants from the dreaded smilax, which had run rampant and was covering up the desirable species. All weeding and stonework must be done by hand and it is very labour-intensive.
Most of the plants introduced here come from the Peloponnese and Crete, since they adapt well to the conditions at Hymettus. That said, some of the trees present are not natives at all, but they were so well established it seemed a pity to uproot them in the interests of purity.
The garden boasts 400 species, including ten endangered ones, but 'they don't look like much at this time of year' according to Sophia and we forgot to ask her to point them out.
What greeted us as we set out were violets, mauve and white, Viola alba ssp. thessala, which brought cheerful colour to the muted greens of the hillside. Here and there plants have been inserted in the rocks — beautiful in themselves — with no compost or fertiliser used. 'The only unnatural thing we do,' said Sophia, 'is to water in summer. Despite the altitude, it gets terribly hot here and without it the plants would die. Fifty taps are hidden around the garden.'
Other plants that we noticed, apart from ubiquitous narcissi and the decorative leaves of Cyclamen persicum, were Ebenus cretica, Euphorbia rigida, Artemisia campestris, Osyris alba - another horrible invader, Senecio cineraria, Ephedra fragilis tendrils (from which a heart medicine is made), and an amazing Cistus laurifolius, which is much larger than the familiar species and bears no resemblance to it.
Just outside the garden's fence to the southwest stood a monument to Katy Argyropoulou, one of the founders of the Friends of the Trees, which was responsible for the reforestation of Hymettus after WWII and for the original botanical garden. Next to it grew some stunning cedars presented by the government of Cyprus.
Those of us who lagged behind benefited from the expertise of Nikos Pangas, forest manager for the Friends of the Trees, and from the sharp eyes and memory of Sally Razelou. They kept us entertained with their comments and discussions about plants some of us might have passed without a second look.
The walk ended at the nursery, rows and rows of hardy local plants that have been grown outdoors in a natural environment and propagated in earth and compost, without hormones, chemical fertilisers or sprays. At least 120 species are available and, what's more, they now have a catalogue in Greek and in English of all the plants for sale, the kinds of conditions they prefer (sun, shade, dry, moist, etc.) and other pertinent information.
I think Sally spoke for us all when she said, 'Coming to this garden at Kaisariani is like entering a cathedral.' The atmosphere is so serene and majestic; one quite forgets it's so close to Athens.
Text and photographs by Diana Farr Louis
January 2012
Slide Show at Sparoza: A journey in the Khumbu Valley, by Miyon Yoo
Last summer Miyon Yoo, Sally Razelou's assistant at Sparoza, took an amazing trip to the Sagarmatha National Park in east Nepal to visit a French ecologist friend who is studying water resources there. Said Miyon, 'I had always dreamt of walking in the Himalayas, but I didn't know what I was in for. It was an extremely challenging experience.' As we followed her journey over 'two intense weeks', Miyon told her tale so well we felt we were with her, sharing her delight in each new plant and her increasing apprehension as the air grew thinner and the paths disappeared. 'When I set out,' said Miyon, 'I needed to travel light, so I left my heavy cameras behind. I intended to look more and keep the images in my head, but in the end it was too frustrating, so I borrowed my friend's digital camera.' We were glad she did.
The park, whose name means Sky Forehead, includes Everest and K2. But because of the monsoon, visibility was usually poor, and the famous peaks showed themselves only once in the whole two weeks. To reach the park, Miyon flew in a 10-seater plane to Lukla airport's tiny airstrip, a mere 460m long and 2,800m above sea level. Arriving at 7am, she then walked with her friend for six hours to the park's entrance. 'This was a touristy area, but we stayed a few days, so I could acclimatise, giving my blood a chance to make red cells. There were dahlias and gladioli, a vegetable garden and a small greenhouse at our lodge. Its vegetables were my last. Our daily diet consisted of a bowl of rice and potatoes and lentil soup. Spices made it interesting.'

Namche.
The next stop, Namche, was at 3440m. This is the starting point for expeditions to Everest. In the dry season it is completely brown and bare, but the monsoon had made it lush. 'On our second day there, we walked to Syangboche airport, a grassy landing-strip with open slopes and alpine plants. There I saw edelweiss, gentian, rhododendrons – there are 30 species, some as tall as pines, Campanula sp., Corydalis juncea, Bistorta vacciniifolia (synonyms Persicaria vacciniifolia and Polygonum vacciniifolium), Juncus, and Primula wollastonii.' Khunde at 3840m was a forest zone, with pines, junipers and firs. The sherpa hut they visited had Tibetan wall paintings, and prayer flags waved outside to protect the paths and a well. Despite the remoteness and traditional life style, all the young had cell phones. Pangboche (3900m), headquarters of Miyon's friend, was a place of sherpas in cowboy hats and a festival focusing on the arrival of an old priest being carried in state. There she saw orchids (Dactylorhiza), another type of gentian, a geranium, and more rhododendrons.
Dole (4200m) was a district of potato fields. But by now Miyon was beginning to suffer from the altitude. 'My body felt as though an elephant was sitting on it. I could hardly put one foot in front of the other.' Compensation came in the form of Polygonum macrophyllum (synonym Bistorta macrophylla), Saxifraga brunonis (?), Myosotis sp., more primulas, poppy relatives, and baby blue Meconopsis horridula. But at Gokyo (4700m), she stayed in bed rather than walk barefoot round a lake before sunrise in observance of a Hindu full moon festival. This is the only day in the year when the surface becomes so still and clear that it is a perfect mirror.
On the other side of the lake was another ordeal that couldn't be avoided – a glacier, Ngorumpa, one of the world's longest. Even though it appeared to be nothing but greyish stones and greyish ice, it was home to tiny Saussurea plants and Waldheimia glabra, bearded like an old man, which may have given rise to the Yeti legends. Furry edelweiss also grows here, while saxifrages hide in the cracks of rocks to minimize the surface exposed to the cold.
At Cho La Pass (5330m), Miyon was not happy, feeling more and more negative and homesick. 'It was horribly stony, unstable. I kept slipping on big rocks treacherous with melting snow. As I went higher, I felt heavier and eventually had an anxiety attack. It was the epitome of hostile. We couldn't see. There were no paths. But I had to keep going, there was no turning back. When I got to a place that was connected to the outside world, I decided to cut short my trek and return home. I learned a lot about myself, but I wasn't truly prepared. Still, I'd like to go back – in a year or two.' We sympathized with Miyon, very happy to view her slides, but happy to be sitting comfortably at Sparoza as we enjoyed her final shots of Primula primulina, a tufted light lavender, and Silene setisperma, like Chinese lanterns.
Text by Diana Farr Louis
Photos by Miyon Yoo