The Crete Branch of the MGS
Past Events 2016 2015 2014 2013 2012 Older
January 2018
A photographic journey: Travels in Japan, by Sara and Roger Gilding
Our first event of the year was held on a beautiful sunny morning in Sara and Roger's garden studio in Kefalas. Their garden looked stunning with plenty of early spring colours.
This very interesting and well-prepared talk focused upon the gardens they had visited over a period of three weeks in November. Sara gave great insight into the philosophy behind Japanese gardens and, during the presentation, spoke of several of their other cultural experiences.

It was interesting to hear that Japanese culture and garden design are closely associated with the two main religions of the country: Buddhism (of which Zen is one aspect) and Shintoism.

Buddhism has four principles – harmony, respect, purity and tranquillity. It takes its practice from the study of the teachings of Buddha. The Path of Enlightenment leads to salvation through meditation and renunciation.

Shintoism is Japan's indigenous religion. Its followers believe that everything has a spirit (Kami), including stones, trees and mountains. The spirits of Nature and Ancestors are the most highly revered.

In practice most Japanese embrace both religions. People pray for happiness and good health at Shinto shrines, and these are where most weddings are conducted. People pray for their well-being and that of their families in the afterlife at Buddhist temples, where most funerals take place.

Celebration of nature and the seasons is a very important part of the Japanese culture. The concept of Wabi Sabi draws attention to the inevitable truth of entropy – growth and decay, with life and death holding equal value. The respect for nature involves respect for impermanence, for the changing seasons, for life, death and rebirth. In the celebration of the cherry blossom, called sakura in Japanese, beauty, fragility and death are all inextricably linked. The garden is a memento mori, depicting the passing of time and our own transient lives.

Sara explained that according to this philosophy gardens are places for meditation and contemplation, where one is taken on a journey towards finding enlightenment. Enshrined in Buddhist and Shinto philosophy is the manner in which in the garden you are carefully directed in the way you use and navigate its space by the path, which is the most powerful design device used by the garden designer to set out both a physical journey and a poetic way of seeing, punctured by elements such as gateways, bridges, lanterns, fences and basins. It is a journey in space and time.
There is a Zen saying: 'Leave yourself at the garden gate'.

It was interesting to learn that garden making is a high art form in Japanese culture, considered equal in status to calligraphy and ink painting.

Sara also pointed out the contradiction that while gardens are designed to appear completely natural, they are anything but! They are controlled and calculated, but not with artifice or contrivance; they are a powerful expression of simplicity. Everything has been considered, nothing is incidental or unmediated, all is designed to purge the eye of distractions.

While many gardens in Japan were originally private, since the start of the Meiji period (mid-nineteenth century), they are now on the whole public spaces. This fascinating and essential background information was accompanied by a series of intriguing photographs of the gardens visited.

Japanese gardens are divided into different categories: stroll, pond, dry, tea garden, courtyard, moss, paradise. We saw examples of all of these.

Hama-rikyu Garden, Tokyo
The Hama-rikyu Garden was the Tokyo family garden of the Tokugawa Shogun. It was donated to the public by the Imperial family in 1946.The photograph shows the tidal pond from the Bay of Tokyo.

Kenrokuen, the garden of the six sublimities, in Kanazawa; this is
an 11-hectare stroll garden which formerly belonged to the castle

Pine trees in Kenrokuen protected by wigwam-like rope structures
(yukitsuri) as protection against the snow

The Shrine Garden, Kanazawa

Otagi Nenbutsu-ji Temple, Kyoto
Otagi Nenbutsu-ji Temple, Kyoto is a moss garden. It has 1200 rakan, or stone statues, representing the disciples of Buddha. In 1955 a new head priest was appointed, Kocho Nishimura, who was also an accomplished sculptor. He implemented the idea of having visitors carve their own statues for the temple under his guidance. These were all added to the temple between 1981 and 1991 but look much older because they have become covered in moss. Each one is unique and many have whimsical and humorous expressions. We were shown several close-up photographs of these. They were fascinating.

Kinkaku-ji Temple (The Golden Pavilion), Kyoto
This is a stroll garden and World Heritage site, of which there are 17 in Kyoto. Sara described how the Kinkaku-ji Temple in Kyoto was originally built as an aristocrat's country estate in 1185. It was taken into possession by the Shogun in 1397 and rebuilt as a Buddhist temple in 1422. It fell into decline but was restored as an Imperial Palace during the Edo period. When the Golden Pavilion was constructed, two floors were covered in gold leaf. After it was burnt to the ground in 1950, an exact reconstruction was completed in five years. It is still used by the royal family for entertaining heads of state.

A bamboo grove in Adashina Nenbutsu-ji Temple, Kyoto
The Adashina Nenbutsu-ji Temple, in the Kyoto area, was previously a burial ground or a place where the dead were left. There are now 8000 stone statues in memory of the souls of the dead. Every August the Sento-Kuyo ceremony is held where candles are lit in memory of those who died without relatives.

The dry-landscape Zen garden at Ryoan-ji in Kyoto

Adachi Museum of Art, Shimane
This contemporary garden opened in 1980, incorporating a little of every style, and it excels in the use of 'borrowed landscape'. It was conceived by Zenko Adachi, a textile wholesaler who collected art. He designed the gardens and collected the plant specimens and rocks from all over Japan.

Rirsurin Garden, Takamatsu, Shikoku
Rirsurin Garden, Takamatsu, Shikoku, is a 16-hectare stroll garden, originally a late sixteenth-century feudal lord's garden, which was opened to public in 1875. Six-hundred- year-old cycads grow here.
This was an excellent presentation that gave us a much greater understanding of gardens in Japanese culture through well-researched detail and high-quality photography.

With thanks to Sara and Roger for sharing their amazing experiences with us.

Photographs by Sara Gilding.
October 2017
A visit to the new nursery plans at Chloroplastes (Mediterranean Subtropical Gardening and Environment Planning), Kalives, Apokoronas.
Annika and Stelios, the proprietors of Chloroplastes, welcomed 20 of us to their new greenhouse at the pre-launch of their new nursery development. Annika spoke about their plans for the future and she was keen to involve us as they are MGS members themselves. This took place through discussion regarding relevant drought-tolerant and exotic plants of interest to the group for our particular location. They also offered the area as a possible venue for relevant activities and meetings for our group in the future.
Annika's presentation included the design drawings and details about the new nursery project as well as features of the impressive new greenhouse. Electricity and internet will be available in the greenhouse so that it may be used for small events, including for some of our MGS events, mainly during the summer months when plant production won't be taking place.
At the moment much is still a building site, but some structural planting has taken place; the layout is both functional and interesting, landscaped ready for further planting and finishing. Although they are still waiting for the building license for the garden office, the first stage of the project is already in place and should be completed in spring-autumn 2018.
Annika went on to describe the 'Chloroplastes Nursery Plan' which showed how long it takes to develop from idea to fruition. First steps were made in 2014 with the purchase of the land of approximately 2500 square metres. Although this is not small, it is not that big when one is starting up a plant nursery with a production area (greenhouse and outside space), a selling area, garden office, show garden and so on. Both Annika and Stelios are aware that combining all their ideas within the available space poses a challenge.
The land was originally an olive grove with 36 olive trees. They wanted to keep most of them but accepted that a nursery needs plenty of open space and have landscaped using the space to best effect. This meant the removal of just eight trees so 28 remain, making it a potentially delightful area.
A great deal of thought has been put into the overall design with several difficulties to overcome, for example in planning the entrance. This was quite steep, so they created a curved, diagonal drive from the road up to the parking area and created deeper planting areas by building small retaining walls. An olive tree was kept in the middle and a small rondel created around it. The parking area is defined and ready to be planted with turf grids greened with a mediterranean lawn. Annika showed a sample of this and it will be interesting to see it completed.
The next stage was to create two buildings, the greenhouse and office, which basically split the area in two sections. Section one is the main nursery area with entrance, parking, greenhouse, office, a rockery show garden along the road wall, selling area and small courtyard by the office. A water feature consisting of a river stream and small pond with a waterfall-fountain is planned. A variety of trees have already been planted, including cypresses for structure, the delightful Cercis siliquastrum (Judas tree) and a selection of more unusual specimens such as Tabebuia rosea (pink poui or rosy trumpet tree from Mexico, Venezuela and Ecuador) and Lagunaria patersonia(an Australian plant endemic to coastal Queensland and sometimes known as Norfolk Island hibiscus or Queensland white oak), as well as the more familiar Pistacia vera and Arbutus andrachne. More trees may be added.
Section two will be at the back of the plot with space for the outside plant production area, a storage room, vegetable garden and a further show garden section.

Annika showing the detailed plans for the nursery
Next Annika described their plans for plant production.
The emphasis is on a nursery with native plants from Crete, Greece and mediterranean climates in general, with the aim to abstain from synthetic fertilizers and plant 'medicines'. Thus their plan is to develop something quite specific. As little literature exists, they have had to research thoroughly as well as using their own experience gained over the years with their design and development work here on Crete. They visited nurseries in Italy and Spain and gained much help and support from Olivier and Clara Filippi, owners of the well-known dry gardening nursery near Montpellier, France. They feel that they gained much information and professional advice, especially regarding the technical parts of the greenhouse, substrates, irrigation matters and general know-how.

Valerie recommended Olivier Filippi's book The Dry Gardening Handbook with its excellent photographs, helpful for plant identification and for the detail given about individual plants, especially as regards their drought resistance
In the chosen greenhouse it is possible to open all the windows for good aeration; it has automatic irrigation (mist system), but Annika and Stelios expect to do much watering by hand. Plant material will be from their own show garden and from the wild.
The prospective plant list had been sent in advance to all those attending this event, showing the first plant species we would like to start using. Annika went through this in some detail, for example describing the colour, height and flowering times of different cistuses. Since many plants in Crete flower mainly in spring, they also want to use drought-tolerant plants that are attractive in summer and some alternative plants for lawns. Lavenders were also discussed, although most lavenders prefer cooler climates than ours, except Lavandula × heterophylla (syn. Lavandula allardii)and L. dentata. However, they have had success with others from their experience on rockery slopes, so these will be developed too. Typical Cretan species such as Ebenus cretica, Euphorbia spp., Crithmum maritimum and Carlina diae are just a few which are planned.
Open discussion followed in which Annika asked: What plants from our list do you prefer? Which plants are you most interested in (from our list but also others) and in general what is important for you? What do you miss in the Apokoronas region and do you have any further suggestions for us?

Damage after the rain
After thanking them for their hospitality and very informative presentation, we enjoyed light refreshments and drinks, continuing our discussion and enjoying glorious sunshine. Two days previously we had had torrential rain and flooding, so much so that their newly gravelled driveway was partly washed away.
Annika and Stelios were delighted with our interest in what they are planning to develop and expressed the hope that this was a good sign and that 'our little native plant nursery project will work well.'

Annika and Stelios
We wish them every success. They follow concepts which are very much part of the MGS's ideals.
Have a look at their new website, and you can also follow them on Facebook.
Text by Valerie Whittington, photographs by Stelios Kyparissi
September 2017
An illustrated talk by Manoj Malde: Beneath a Mexican Sky, a Silver Gilt design winning garden in the Fresh Gardens category at the Chelsea Flower Show 2017
Several of us had eagerly visited the Chelsea Flower Show in May to see 'Beneath a Mexican Sky' and to give support to Manoj, a member of the MGS here on Crete. All were keen to celebrate his success as he told us about the planning, sourcing and execution of his Fresh Garden and to hear all about this intriguing design. We were joined by others, who, although they had not seen the garden, were equally interested to learn all about the project.

The garden: Beneath a Mexican Sky
In providing the background to his garden design, Manoj talked about the influence of the talented Mexican architect Luis Barragán and how he had been drawn to his work through Barragán's dramatic use of colour, for example, large stucco-rendered walls painted in clashing colours. Also, being of Indian ancestry and having been born in Kenya, Manoj particularly remembers his mother's flamboyantly-coloured saris; he believes it is no wonder he always gets drawn to colour.

The pool with Rupert Till's horse head sculpture featuring as part of the design
Manoj described Beneath a Mexican Sky as an homage to Barragán's work. A large courtyard area is intended as an 'inviting and calm space. Barragán's signature colour-washed walls in clementine, coral and cappuccino provide dramatic backdrops to the planting scheme. Zinc micro-cement steps floating across a large aquamarine pool often seen in Barragán's work. He loved horses and often created a pool for them to cool off in. The spirit of the horse is included within the garden through a copper wire sculpture by Rupert Till.' (From the promotion brochure.)

Manoj in the sculptor's studio where the copper wire horse sculpture is in process
Since he graduated from the English Gardening School, it had been Manoj's ambition to create a garden at the Chelsea Flower show. Having gained inspiration, the journey towards completing the garden started in October 2015 with the aim of producing something new with fresh ideas, hence the Fresh Garden category. Having gained experience on the planting team in 2016 with Nick Bailey's, Beauty of Mathematics Garden (see the article about this by scrolling down to September 2016), he felt ready to take on the challenge to create a garden of his own.

A key plant, the rich and vibrant Aeonium arboreum 'Zwartkop'
Thus the story began. Manoj described various stages: from producing doodles, a mood board of ideas and research developed into a small sketch on A4 paper. We learned how he found a contractor for the building work and made his choice of nursery; we heard too of various trials and tribulations, and of how sponsorship was gained before he could make his submission to the Royal Horticultural Society in July 2016 with some confidence now that he had a sponsor, contractor and nursery on board. Then, once the submission was in, he had a 'long agonising wait'.

Several agaves feature in the garden, such as Agave parryi
We learned that there are two judging stages for entries. One was in August, with feedback provided in September before the final judging took place. On October 6th Manoj received an email inviting him to build his garden at the Chelsea Flower Show in May 2017.

Kalanchoe beharensis 'Fang' – the first time a kalanchoe has been featured at Chelsea
Manoj explained that the plans submitted were necessarily fluid, requiring a preliminary plant list but not set in stone at this stage. The hard structure is designed, but the planting plans are suggestions only to allow for flexibility, apart from structural plants such as trees and important large shrubs. However, the theme promoted the use of 'drought-tolerant plants that merge mediterranean style with country cottage planting.' The garden was designed around two mature multi-stemmed Arbutus unedo (strawberry) trees to provide structure. Agaves provide strong features softened by herbaceous planting.

This Agave parryi in flower gave a stunning further dimension to the overall planting scheme
Submission accepted, the garden's allocated space measured ten by six metres and was to be produced on a tight budget. Manoj stated that 'Now the real work started.'

The Puya coerulea was a show-stopper as were the osteospermums in the beautiful chimney-pot tops from South Africa
The next section of the talk was particularly interesting, with fascinating photographs to illustrate various stages of the development of the project. Manoj will be repeating his talk in January 2018 for members and friends who were unable to come on this occasion. The rest of this story covering how the garden was finally developed will wait until then.
A 'bring and share' supper on a Mexican theme completed the evening in the convivial surroundings of Pam and Geoff's lovely terrace. With thanks, as always, for their hospitality.
Text by Valerie Whittington
Photographs provided by Manoj Malde and Jonathan Buckley©. With acknowledgement to the contractor Living Landscapes and Sponsor, Inland Homes PLC.

The final Plant list:

TREES
Arbutus unedo (multi-stem)
Kalanchoe beharensis
Kalanchoe beharensis 'Fang'
SHRUBS
Aeonium arboreum 'Zwartkop'
Agave americana
Agave attenuata
Agave parrasana
Agave parryi (syn. A. parryi var. truncata)
Cistus 'Silver Pink'
Dracaena draco
Fascicularia bicolor
Puya coerulea
Salvia greggii 'Royal Bumble'
GRASSES
Carex testacea
Festuca amethystina
Melinis nerviglumis
Muhlenbergia capillaris
ANNUALS and BIENNIALS
Cosmos atrosanguineus
Cosmos sulphureus (orange)
Eschscholzia californica
Eschscholzia californica 'Red Chief'
Osteospermum sp.
Seseli elatum ssp. osseum
HERBACEOUS
Baptisia 'Blueberry Sundae'
Beschorneria tubiflora
Cheirolophus sempervirens (syn. Centaurea montana) 'Jordy'
Dianthus cruentus
Erigeron karvinskianus
Euphorbia cyparissias 'Fens Ruby'
Gaura lindheimeri 'Rosy Jane'
Gaura lindheimeri 'Siskiyou Pink'
Hesperaloe parviflora
Linaria 'Canon Went'
Linaria Canon's Went
Salvia 'Indigo Spires'
Salvia officinalis ssp oxyodon (syn. S. officinalis var. purpurascens)
Tulbaghia violacea
Tradescantia sillamontana
CACTI and SUCCULENTS
Bulbine frutescens 'Hallmark'
Echeveria 'Blue Prince'
Echeveria secunda (syn. E. glauca)
Marginatocereus marginatus (syn. Stenocereus marginatus)
Sedum sediforme
Senecio serpens
Tillandsia sp.
June 2017
A Succulent Workshop at Rosemary and Alan Thomas' house and garden, Plaka, Apokoronas
My own succulents really suffered from the inclement weather this winter, including heavy snow which was half a metre deep in my village, followed by abundant rain. Many succulents, particularly Agave attenuata and aeoniums, were affected and still look battered. Three Euphorbia tirucalli, one a metre and a half high, did not survive. As a result, I thought many of us would benefit from a workshop which looked at various aspects of growing succulents in our climate as well as their maintenance. Rosemary Thomas agreed to share her experience and knowledge of these plants; we also enjoyed the wonderful collection in her garden.

A colourful and varied collection lining the sea-view boundary
including the vibrant Tradescantia pallida 'Purpurea', aloes,
aeoniums, euphorbias, geraniums and papyrus growing happily
in a water-filled pot
After a welcome drink on this very warm morning, Rosemary showed us around her special courtyard garden. Surrounding the house, it enjoys a good balance of sun and shade throughout the day with especially created shady spots and suits her prime specimens well, whether planted in the ground or displayed in a myriad of interesting pots.

Rosemary's plants are predominantly succulents and exotics
which thrive in the environment she has created

A stunning Crinum asiaticum in full flower alongside
the rich contrasting leaves of the cannas

Alpinia zerumbet, commonly known as shell ginger,
a perennial species of ginger native to East Asia.
It can grow up to eight to ten feet tall and
bears these spectacular and colourful
funnel-shaped flowers.
Open views to the sea on one side backed by a very high wall at the back provide both shade and protection as well as the opportunity to hang or display items on the wall of the house or boundary.

The garden is impressive and delightful, something
to look at and enjoy at every turn

Rosemary shows how easy it is to take cuttings from Jill's overgrown plant
The workshop following our information-packed tour of the garden included:
Looking at several species of succulents and cacti and learning how to propagate them, from division, cuttings, offsets, etc
Saving a 'poorly' plant and recognizing symptoms of stress and pests
Ongoing maintenance and protection of precious plants in the winter
Propagating members' own plants, brought along for advice
Planting up a jewel-box pot in lots of ways, using different pots and containers: this was great fun

Delicious home-made refreshments were provided midway through
the session before we embarked on making our own jewel boxes
from an array of contributions from members and new plants bought
especially for the occasion.

Great concentration and involvement as we enjoyed creating our
own jewel boxes to take home

A jewel box
This splendid session was rounded off by a convivial lunch in the local village taverna where we were joined by several of our partners. Rosemary was presented with a gift token from a garden centre as a thank you from the participants.
Rosemary's garden was also visited in December 2013, scroll down this webpage to read and see other photographs from that visit.
Text and photographs by Valerie Whittington
April 2017
A wild flower walk and garden visit in Kefalas, Apokoronas.

On a beautiful, clear and sunny day, a group of us led by Sarah Gilding walked to see our local alliums (Allium nigrum) in all their glory in a quiet, lovely area of Kefalas. This was followed by a special visit to a private garden on our return.

Allium nigrum
(Photo by Sara Gilding)
The walk was a relatively easy, enjoyable stroll as we walked down into the valley with lovely views of the mountains in the distance, with a fairly steep, although short, hill on our return. The surrounding countryside was green and lush with plenty of wild flowers to enjoy on the way.

A heart-lifting fields of poppies
Given the high rainfall and snow during the winter, spring had arrived late this year making predictability of wild flowers uncertain. The actual date of our planned walk had to be confirmed at short notice. Sarah had been monitoring the alliums in bud, and trying to predict when they would actually flower was tricky, but our eventual choice of Friday 28th proved perfect.
We were not to be disappointed. Off the main track, we followed one of the old donkey tracks a short way. Sara had had to come along with secateurs earlier in the week to ensure we could pass by more easily as it was there was a short scramble over a few rocks and into the field closed off by plegma (wired fence). Thank goodness for the plegma as an absolute feast for our eyes awaited us rather than lunch for marauding sheep or goats.
The outlying part of the field was a beautiful, colourful mix of gladioli, smyrnium and alliums with the reward of our walk beyond. It was stunning.
Jam-packed together, the stately alliums (Allium nigrum) in all their glory with buds open wide to greet us. We were thrilled.

Our reward, a stunning Allium nigrum in close-up
(Photo by Sara Gilding)
Highly satisfied and after much clicking of individual cameras, we set off on our return to visit Jan and Vangelis' garden in Kefalas. This totally different Mediterranean garden made a fascinating addition to seeing the alliums.
Vangelis is responsible for the 'Welcome to Kefalas' monument as you approach the village from Xerosterni. Their garden is a unique testament to Vangelis' creativity with stone.
On arrival, we were greeted enthusiastically by Jan and Vangelis; they were pleased that we were interested in visiting their unique garden. After a brief welcome and introduction to the garden we were able to wander and explore at will.
The house was built in 1995 but the garden was developed over the last ten years after Jan and Vangelis married. It is called Jan's House. For ten years of his life Vangelis had been a hermit making his home in a cave by the sea. He proudly showed us photographs of the home he had made within the cave complete with bedroom, living area and kitchen, all with home-made furniture. A few years ago I had the privilege of visiting the cave which is only accessible by boat and a short swim and had always wanted to peep inside this garden.
Jan and Vangelis described how, bit by bit, the garden has developed. Jan was occasionally irritated because more and more of her vegetable garden was taken over by Vangelis' structures. She now has a very beautifully designed raised bed complete with mosaic pebbled walls.
Pots are integrated into paths or walls, sometimes planted with flowers or exotic shells.
Made to feel very much at home, we enjoyed real Cretan hospitality under the shade of their pergola with raki and biscuits.
This was a fascinating garden to visit and a privilege. With grateful thanks to Sara for arranging the walk and garden visit and to Jan and Vangelis for sharing their 'treasure' with us.
Text and photographs by Valerie Whittington apart from those credited to Sara Gilding.
February 2017
An illustrated presentation: Gardens of the Cape, Stellenbosch and Cape Town, South Africa
This interesting event was held at Pam and Geoff Dunn's house, Douliana, Apokoronas in February. Six members from Crete visited South Africa on the MGS trip in the latter part of 2016. Twenty-four very different gardens and landscapes were visited, including important botanical gardens, community endeavours and several private gardens. This was an excellent joint presentation by Pam Dunn, Bob Lyle and Valerie Whittington.

Babylonstoren Botanical Garden

Vergelegen Wine Estate and Garden
All had slightly different perspectives and their reports were based on what had appealed to them most. The photographs shown covered a full range of all we saw and were most impressive. First, Val Whittington gave an overview, putting some context to the whole trip. Pam Dunn talked about the flowers she had particularly liked and Bob and Jill Lyle concentrated on the wild flowers we had seen. I particularly enjoyed being reminded of some of the wonderful things we saw.

Dylan Lewis Sculpture Garden

Auldern
This was received with great enthusiasm and followed by a delicious bring-and-share lunch.

Old Nectar
For a full account of our visit to South Africa, please refer to TMG 88, April 2017, or the MGS website with photographs, where part one of Val's report is published. Part two will feature in TMG 89, July 2017.
Text by Clive Whittington, photographs by Valerie Whittington
Branch Head Valerie Whittington
Valerie retired with her husband, Clive, to live full-time in Crete six years ago, having had a holiday home here since 2000. Their house is built on an exposed, windswept hillside with cold harsh winds in winter and severe, hot, desiccating ones in the heat of summer; this hillside was previously home only to goats.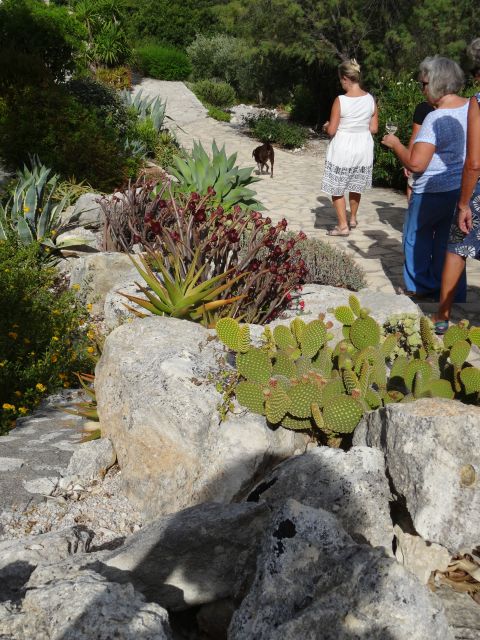 Gardening is Valerie's passion and, with little previous experience of plants of the mediterranean, she is developing a garden which is in keeping with the landscape, which attempts to be waterwise and where new plants coexist with the original flora.
Valerie originally wrote the following article about her garden for The Mediterranean Garden, No. 63.
Designing and working with the natural landscape on a windswept, rocky hillside in Crete.
As part of the programme for the AGM, October 2010, I opened our garden to the fifty members who had chosen garden visits as one of the options offered.

Unfortunately it rained heavily during the visit so, as you can imagine, I was very disappointed. However, some did walk around and see most of the garden but not in the manner in which I had envisaged it: that is, with time to stop and look at plants, sit in different sections of the garden and chat informally as the various routes and paths were explored. Everyone enjoyed seeing some aspects during lighter rain spells and they listened attentively to my background talk whilst sheltering in the kitchen and covered verandah area. It was suggested afterwards that I should submit my talk for inclusion in the journal /on the website as people felt that it would be of interest to a wider audience. So here it is with slight modifications to fit the different audience.

I shall tell you briefly about our land, my aims in developing the garden, planning and designing the land, some indulgences, the challenges, key factors in working towards achieving my aims and the here and now.

Background: We moved in on 24 December 2005. This is our sixth year and the garden has been developed in phases over this time. Plants grow well here, so much of the garden is considerably younger than it seems.
The garden is my retirement hobby and I am passionate about it – it is something of an addiction. But not as a 'purist' with set ideas, and I have no formal training: I enjoy creativity, am unconventional and committed to the ideals of the Mediterranean Garden Society.

Our land: The land is just under 300 metres above sea level and is 4,000 square metres (4 stremmata). It is very exposed to winds from all directions. It is an area which has been over-grazed as evidenced by the abundance of phlomis and euphorbia. The original soil is generally satisfactory to work with in these areas, but with many rocks including large areas of bedrock. We inherited three small trees - two olives, a crab apple and a few wild almonds – as well as an abundance of phlomis, euphorbia, thistles and grasses but also lots of lovely wild flowers. The land had never been used for cultivation, just animal grazing. Other areas were made barren by building work and the resulting debris.

A stone bank was created by excavation for the house and pool and this has been my biggest challenge.
Fourteen lorry loads of 'top soil' covered this section BUT rains came early and much was washed away before I was able to plant anything. This is clay soil, which is very poor. Erosion is a continuing problem.

More soil was brought in to develop other areas: some clay, other expensive 'topsoil', which was easy to use and more sandy but was actually full of weed seeds and seemed less fertile than the original cheaper sort.

It is a wild, windswept landscape here with cold harsh winds and severe hot desiccating ones in the heat of summer.
My aims are:
To make a garden that has a sense of where we live, that is in keeping with the landscape;
To use native and/or drought-tolerant plants wherever possible;
To create a water-efficient garden;
To make a garden that is a balance between design and maintenance so that it becomes largely self-sustaining.
When it came to planning and design:
I had to remember the 'big picture': given the lack of trees there was little shade, so tree planting was and still is a priority.

I researched MGS material and their recommended books. I attended the MGS Symposium at the AGM in November 2007 and learned a lot. Particular influences on me have been my visit to Sparoza in 2007, talks by Heidi Gildemeister, Louisa Jones and Olivier Filippi and of course their wonderful books. In 2009 in Cyprus, Mary Michaelides furthered my interest in succulents, in particular with her view of inter-planting with non-succulent varieties.

I value the wild flowers and plants already on the land so they are allowed to flourish wherever possible. As soon as the rains come, what appears as dry, well-weeded sections will soon 'green up' and wild flowers will follow.

The forestry department in Chania has an annual sale of cheap, high-quality small trees and shrubs. Many of our plants have come from there, as I believe planting small is best, especially in establishing trees (and we want lots of trees) – over the four years we have planted many, with only a few losses. Trees are also grown from seed whenever possible.

Early shrubs and pioneer plants were used: such as oleander by the boundary wall and as a windbreak. They are also drought-tolerant. Myrtus, Pittosporum, Carpobrotus edulis (hottentot fig), Aptenia cordifolia were also useful – especially on the bank.

Some deciduous trees and shrubs, for example Cercis siliquastrum (Judas tree), Robinia and Hibiscus have been included to provide a microclimate and to support soil improvement.

Plants are usually grouped together for impact and cohesion. I make use of plant communities – groups that work well together and have similar needs, e.g. as regards both soil and water.

Areas are zoned, generally by type, e.g. palms, yuccas, agaves and succulents fit well with the wild area of phlomis and euphorbia. We also have a dry garden at the top of the bank with some splendid large Euphorbia ingens, some cacti and a variety of succulents such as Echeveria, Kalanchoe lutea, aloes and Crassula. This is sensible in terms of watering needs and caters for similar soil requirements. Some of the plants have self-seeded and found their way here on the wind and are blending in naturally. These are phlomis, Ruellia brittoniana, Verbena bonariensis – even the odd sunflower has turned up here.

All bulbs originally on the land, especially sea squill (Urginea maritima), Barbary nut iris (Gynandriris), Star of Bethlehem (Ornithogalum creticum) and Asphodelus luteus and A. albus are maintained. Others such as wild gladioli (Gladiolus italicus) and white iris (Iris cretensis) are being introduced slowly. Each year I add more Agapanthus and Tulbaghia, which are great gap-fillers, evergreen, have gorgeous flowers and, being bulbs, cope well with the climate.
Some indulgences:
My pond, with (Nymphaea 'James Bryden'), water lilies from Spain, which started flowering in April this year and have continued to the beginning of October.

Cannas, a few ginger lilies and sunflowers (although all do well without too much water, some become scorched by the sun.)

Vegetables: I grow things I could not grow in the UK without a greenhouse and which I associate with a mediterranean diet. Strawberries, because I love them, okra and artichokes mainly for the flowers, and chillies because Clive loves them. Last year I grew seven different varieties of chilli.
Challenges:
Actual planting: the ground is so rocky in parts that a sledgehammer is often necessary, no rotovating here!
The wind can be very destructive, especially to young plants and fruit trees.

The bank: combating erosion caused by the often torrential rain. Simple terracing and stones around individual plants are employed to deal with this. In some places netting is also used to keep back the soil.

My commitment to encouraging drought tolerance through using little water. Judging when a plant is established and ready to cope on its own with just the winter rains or very occasional summer watering only. I need to be brave and prepared to lose a few plants as I learn.

My watering system: this can be unreliable and needs checking and repairing regularly, especially with fluctuating water pressure. It is being used less and less now (2011) as plants establish themselves, with whole sections of the system no longer necessary.

Goats! Especially early on for, in contrast to their own land, this seems like paradise. In May of this year high winds pushed a gorgeous tall sunflower with four lovely bright yellow heads towards the fence. The goats lost no time at all in reaching in and tugging the whole plant towards them. Roots were pulled up from the ground to bring the flowers closer before all was gobbled up.

Transplanting trees: I've not been very successful with this unless they come directly from pots. I suspect that I water insufficiently for them to recover from the stress of being moved and there are often high winds which do not help.

Pests: SNAILS by the thousand. These are particularly destructive to succulents. A recent arrival to the garden is a hedgehog, which is already making a difference, judging by the crushed snail shells we find.
Grasshoppers and locusts can strip the leaves of young plants, especially citrus and hibiscus. Occasionally scale insects are bought in on forestry trees (one is not allowed to choose the individual trees). Ants move seeds planted directly into the soil in certain areas and they also like young fruiting trees, especially apricots. Our cat loves newly dug soil; he also sits and squashes plants. Polecats and a badger(s) digging for grubs or seeking water from drippers on the watering system. Badgers are very destructive on the bank, moving large rocks and stones, encouraging erosion. And now we have a hare.

Disease: After the last mild winter with little rain, rust hit geraniums and the Ricinus communis (castor oil plant) and a fungus attacked the phlomis. I am learning to deal with these problems.
So what are the key factors in achieving my aims?
The kindness of friends who started me off with cuttings or seeds, after which I took my own cuttings and sowed more seeds, so the cycle moves on.

Making compost from kitchen and garden waste to use as soil improver or mulch. I also use seaweed.
All prunings are shredded and often used as mulch directly although any shredded 'wood' generally goes into the compost first.

Regular mulching helps by protecting surface roots as well as preventing the soil from drying out completely and turning hard or forming an impenetrable crust. It supports efficiency in water retention and aids soil improvement.

I leave little soil exposed or for otherwise unwanted weed seeds invade. Early on Aptenia cordifolia and Carpobrotus edulis were a real help, especially on the bank. Now I am able to remove much of these as other plants become established.

Also winter 'tidying up' to ensure that air can circulate within and at the centre of plants as they grow.

In spring we have many different wild flowers. These are valued for their natural beauty and they were here before us. I respect them and enjoy them as a major part of the garden. They are not weeded or cleared until after they die back. Some are used as mulch in the 'managed wild areas' while others set seed and die back naturally. Those that are potentially invasive, such as thistles, I endeavour to remove before they seed.
My latest challenge is learning how to manage new pests and diseases.
So where am I now?
I keep a photographic record of the areas before development and it is astonishing to see the rapid growth. Gardening in this climate is a new and challengingly sharp learning curve. Classic errors are made as well as successes achieved. The biggest mistake many of us make is planting things too close together, never believing how rapidly they will grow and fill out. Some plants are being taken out this winter and others cut back.

I believe that a drought-tolerant garden can succeed with patience and a willingness to take risks. I now know which plants are proving successful and use these again with repeat planting. In this way different sections pull together to create the overall bigger picture. I am using my experience in matching plants to the right part of the garden and in creating shelter belts which will provide shade.

This autumn I have started planting and experimenting with different bulbs in the hope that they will naturalise in the 'managed' wild areas.

Below the bank is our wild area which we are now strimming to encourage a greater variety of plants and wild flowers but at the very bottom it is totally overgrown to keep marauding sheep and goats at bay.

Of course, the garden constantly evolves and develops and I now 'paint' with plants by playing with shape, colour and texture. It is now at that rewarding stage where I can step back to re-appraise what I have done so far before moving on with the overriding aim stated at the beginning: to make this a sustainable garden that has a sense of where we live and that is in keeping with the landscape.
Valerie Whittington