The Greek Branch of the MGS
The Greece Branch welcomes all gardeners and want-to be-gardeners of all ages and from all backgrounds. Our members are spread out across Greece and range from people who have large designed gardens to those who live in the city and get creative on a tiny balcony. We regularly get together to visit gardens of interest, both private and public, visit local nurseries, hear talks by experts and participate in workshops. A couple of times a year we arrange a weekend away to other regions of this beautiful and fascinating country to explore and connect with members who are not resident in the Athens area. We try to offer a diverse range of activities to appeal to our broad membership.

The Greece Branch is home to the wonderful garden of Sparoza, the centre of the MGS. Some of our members volunteer weekly (Thursday 10-12) to help take care of the garden. If you would like to join us contact Vina, the volunteer coordinator, for more details.

Twice a year we host a seed and plant exchange at Sparoza. Members, their friends and family are invited to the garden to stock up on healthy plants propagated by Sally Razelou, the custodian of Sparoza, from seeds and cuttings from the garden. These events are held in the Spring and Autumn on dates that are posted on our website. We also invite our members to get together at two relaxed dinners/lunches at Sparoza - one just before the Christmas holidays and one before our long summer recess.

Our Branch Head is Christina Lambert (biography) and current and prospective members are welcome to contact her by email.
The photograph at the top of this page shows an olive grove in spring carpeted with wild Anemone coronaria. We are lucky that here in Greece not all the natural flora has been destroyed by intensive farming.

Ελληνικό ιστότοπος του MGS
Forthcoming Events
Thursday 8 November and Sunday 11 November - Peania
Plant and Seed Exchange
We will be opening the MGS Sparoza garden for our plant and seed exchange twice this Autumn. The nursery is well stocked and we would love to see you there. We would ask that you please bring your own bags to take away your plants and seeds. Even if your garden is full to the brim come along and have a look at the garden, meet some of the "Vollies" and enjoy some refreshment. Bring along your friends and family and enjoy the beautiful space.
Saturday 24 November – Southern Evia
Garden Design
We will be visiting the new home and garden of MGS member Lilian Lorenz. The house has been built to be as ecological as possible and she will be in the process of having the new garden landscaped and planted. The garden has been designed by Jennifer Gay and she and Lilian will be giving us a talk on the ideas and concepts behind the design and the implementation of it, design principles and the plants that are being used. This is sure to be a fascinating day out.
Saturday 8 December - Stamata
Vineyard and Permaculture Vegetable Garden
Visit to the vineyard and new permaculture vegetable garden at Ktima Kokotou. We will be taking a tour of the vineyard and the new permaculture vegetable garden. Alexandros Kostis, designer of this garden will be giving us a talk about permaculture principles and the design of this particular garden. We will then be having a wine tasting. Anne Kokotos has suggested that this will be an ideal opportunity for members to stock up on wine for Christmas and she will be offering us a discount on any wine we purchase.
December - Peania
Mediterranean Garden Society Christmas Dinner
The Athens Branch will be getting together at the MGS Sparoza garden to share some food and drink before Christmas. The date for this event will be announced shortly.
Past Events
April 2018
Visits to gardens in Peania
This was our best-attended visit of the spring. About 35 members met up at one of Lefteris Dariotis' gardens in Peania where we were given coffee and biscuits. In this particular garden he grows many salvias, bulbs and other plants too numerous to mention by name. He has recently created a bed of alpine plants with a mulch of fine gravel which is looking fabulous.
Gravel mulch in Lefteris' garden
We then moved on to his 'Goat Garden'. Here he has over 360 plants that are now grown with no water except for what they get from the sky. He started the garden four years ago. For the first year he watered the plants once every 10-20 days during the hot summer months. The second year he cut this down to every 20-30 days and for the last two years he has not watered these plants at all. The majority of the plants are native to Greece and the garden looked fantastic with many of them being in flower. He said that he has not added any compost or soil improver to the garden, but he has added a thin layer of gravel mulch on top. This garden generated much interest from all the members.
Lefteris' 'Goat Garden'
Finally, we visited the Vorres Museum where Lefteris has been involved in replanting some of the beds and pots with the aim of using less water. It was all looking wonderful, as always, and we were very interested to see the changes that have been made.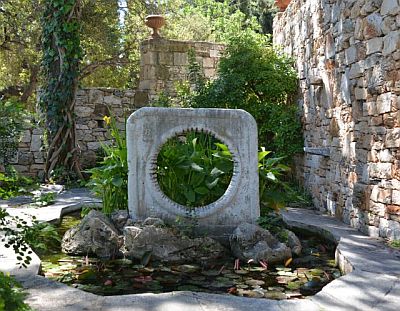 Vorres Museum garde
For older reports and articles please check out the archived (non-responsive) Greek Branch page.
Christina Lambert, Greek branch head writes: I am English but have spent the last 25 years living in this amazing country - Greece. For many of those years I had a large and productive, organic garden just outside Athens.
I joined the Mediterranean Garden Society a few years ago. I have been the Branch Head of the Athens Branch for the last year and have also spent much time working at Sparoza. I now live in central Athens.
THE MEDITERRANEAN GARDEN is the registered trademark of The Mediterranean Garden Society in the European Union, Australia, and the United States of America