The Southern California Branch of the MGS
Our Branch Co-Chairs are Shelley Harter and Virginia Paca; current and prospective MGS members are welcome to contact them by email.
Executive Committee
Vice President - Christine Moore
Secretary - Alison Terry
Membership - Marie McDuffie
Advisory Board
Carol Bornstein, George Brumder, Mike Evans, Jim Folsom, David Fross, Isabelle Greene, Gary Jones, Bart O'Brien, Pamela Palmer, Bob Perry, Nancy Goslee Power, Chris Rosmini, Lili Singer, Jan Smithen, Nicholas Staddon, Nan Sterman, John Tikotsky, Pamela Berstler, Kitty Connolly, Marilee Kuhlmann

The Southern California Branch hosted the Annual General Meeting of the MGS in October 2017 and held the international General Assembly at the Huntington Library. The photograph at the top of this page shows the Frances and Sidney Brody California Garden. (Photo: The Huntington Library, Art Collections and Botanical Gardens/Martha Benedict)
Forthcoming Events
Details for the following events will follow and will be posted on this website.
May or June - Moorpark
Tour of Apricot Lane Farms - a certified organic and biodynamic farm.
September - Pasadena
Talk on Healthy Soils at La Casita del Arroyo.
Saturday 12 to Wednesday 16 October – Corfu
AGM Pre-tour.
Thursday 17 to Sunday 20 October – Athens
The Mediterranean Garden Society's 2019 Annual General Meeting (AGM) is scheduled to be in Greece
Monday 21 to Thursday 24 October - Pelion
Post-AGM tour.
November - Riverside
Annual Meeting at UC Riverside
Please check the other branch pages, especially if you are planning a trip overseas. As an MGS member you can attend other branch events.
Past Events
September 2018
A Day In and Around Newport Beach

A sizable group (50) of gardening enthusiasts gathered at the Newport Beach Civic Center (designed by PWP Landscape Architecture), ready to embark on a sun filled day of education, beautiful gardens, and spirited conversations.
Pamela Palmer thoughtfully brought along books about Newport Beach Civic Center Park, a 16 acre ecological parkland with a variety of unique landscape zones: Desert Garden, Torrey Pine Grove, Coastal Sage Scrub Gardens, urban runoff and detention wetlands, meadows, and more. The site meets LEED and Sustainable Sites Initiative criteria and illustrates the California horticultural heritage of the city.
We visited three intimate, more formally styled private gardens in Corona del Mar and Newport Beach. Our first garden was created clean, unfussy exterior spaces for entertaining, with an emphasis on viewing the spaces from the interior. Cool green hedges and gravel patios created a sense of space and casual elegance, while an outdoor whitewashed brick fireplace and sturdily strung café lights invited us outside. St. Francis of Assisi watched over tidy brick raised beds, with boxwood trimming cut flowers.
We then switched gears before visiting the other two private gardens, and went to the Environmental Nature Center, a hidden sanctuary founded in 1972 that educates children and communities about California native plant communities, wildlife habit, and sustainable building practices with its LEED certified building. Bo Glover, Executive Director for 27 years, enthralled us with his commitment to environmental education and passion for the resource. Lori Whalen, Director of Communication, described the site, its walking trails, Butterfly House, Redwood Forest (where a pre-school will be built in the near future), and the 15 native plant communities. Even though the site is surrounded by dense residential development, it has been graded with hills and ravines (using soil excavated from the nearby Newport Harbor High School pool) to create an insular, forest-like environment where for an hour or two one can feel immersed in nature, miles away from the urban environment surrounding it.
Bo Glover, as he enthusiastically explains the Environmental Nature Center
After feeling enlightened and empowered through our tour of the ENC, we drove to our second private garden, hosted by Missy Schweiger. Missy detailed the process she went through to create and execute her garden vision. Corona del Mar is a tight knit, dense community of small scale homes where land is precious. Instead of building a large home with little garden space, Missy made a bold and personal decision to keep her house footprint small and leave the remainder of her property open where she could create a garden for herself and her family. One enters the garden through gray weathered arbors and tight Carolina Cherry hedges, creating a sense of anticipation and separation from the street. Formal hedges are layered with looser flowering hydrangeas in between for color and variety of form and texture. The gravel pathways, large sitting rocks, and painted shutters give a relaxed, whimsical feel, echoed in the train circling the large central Eucalyptus in the garden. Personal touches such as stained glass windows repurposed into gates, potted cymbidiums, and Chinese urns created a comfortable space for relaxing and full of personality.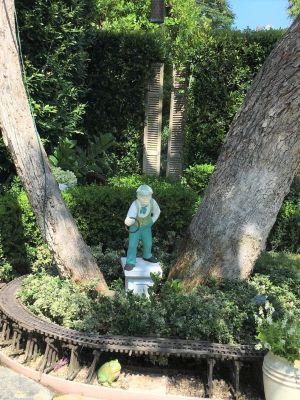 Some of the many personal touches in Missy's garden – a train track
With anticipation, we all headed to Sherman Gardens and Library, a botanical garden and research library occupying an entire block in Corona del Mar. Founded by Arnold Haskell in 1966, the gardens are named after M. H. Sherman, Haskell's former employer and mentor. The gardens are vibrant and diverse and attract families, students, and horticulturalists from the area. There are formal European and Moroccan fountains, a tropical conservatory, koi pond, succulent garden with craggy California Pepper adjacent to the Library, cycads and ferns, roses, and scented geraniums. Although the emphasis is not particularly on mediterranean plants, they are mixed in with perennial borders, enlivening them with scent and color. We ate our lunches of savory and sweet crepes beneath a lattice cover from which peach and pink Dipladenia cascaded out of hanging pots, listening to the tinkle of water from the Moroccan fountains—what could be more mediterranean than enjoying each other's company and an alfresco meal surrounded by beautiful plants?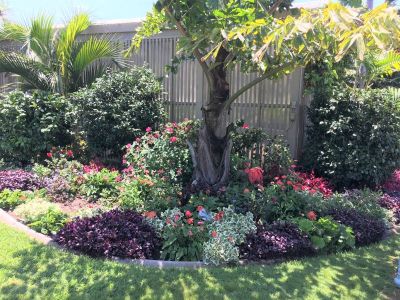 Sherman Gardens, always abundant in flowers
Our next garden had a delightful cool courtyard with central wall fountain, built out of Southern California's native Bouquet Canyon flagstone. The motor court was paved in a random fan brick pattern with splashes of flagstone. The fountain was framed by Boxwood hedges, accented with Bearded Iris, and a diamond shaped espaliered vine on the walls flanking the lion's head fountain. Convolvulus and Campanula filled in joints along the stepping stones towards the fountain.
Native Bouquet Canyon flagstone on fountain wall
We then traveled up the bluff to a large private garden designed by Carol McElwee. The front yard and upper portion of this large property, are dominated by large Olive trees and a naturalistic mediterranean garden. A sinuous flagstone path with Dymondia joints, flanked by mature Rosemary, Echium, and Achillea 'Moonshine', leads to the entry gate to the formal pool, lawn, and fountain on the house level. Boxwood hedges, roses, Italian Cypress, Prostrate Rosemary, and Citrus on tiers all create a quintessential mediterranean garden. The view from the upper level porch takes in the vista of the Pacific Ocean beyond, and in the foreground one sees an intricately patterned maze of hedges surrounded by gravel. This is a garden to be seen from above, with its topiary boxwood and sheared Ligustrum. Centered on the house is a private circular firepit space, surrounded by tall Ligustrum hedges. When in the garden, the focus is back up to the house. When in the house, the focus is on the geometry of the garden as a neatly maintained foreground to the view.
A garden influenced by the Mediterranean gardens in France and Italy
Our full day ended at Roger's Gardens, a one-of-a-kind destination nursery that is more than just a nursery; it is an invitation to garden and enjoy the Southern Californian lifestyle. Ron Vanderhoff, Manager and Horticulturalist, gave us an unexpected glimpse into the two sides of him through his presentation "The Other Side of the Fence": One as ornamental horticulturalist and nursery manager selling plants. The other as a naturalist educating people on the value of California's native plants and habitat. The duality of marketplace and conservation sparked vital and passionate conversation among our group. We were all very thankful for the knowledge people like Nicholas Staddon, Marilee Kuhlmann, Nan Sterman, and Pamela Berstler brought to our group and we hope to continue the friendships and conversations from this tour into the future.
At Roger's Garden with Ron Vonderhoff, Nicholas Staddon (on the right) and Nan Sterman holding her latest book, Hot Color, Dry Garden.
May 2018
3rd Annual Plant Exchange and Lunch
Another beautiful day at La Casita in Pasadena with members, board members and friends discussing garden-related topics over a bring-and-share lunch and exchanging plants.
La Casita in Pasadena – a 1933 community meeting house
The setting, La Casita del Arroyo (The little house on the Arroyo), was built as a community meeting house in 1933 as a work project during the Great Depression. The lovely house and surrounding mediterranean-landscaped garden were mainly constructed of natural materials from the Arroyo and recycled materials from the velodrome built for the 1932 Olympics in Los Angeles. In 1988, landscape architects Isabel Greene and Yosh Befu designed and installed a low-water demonstration garden promoting plants suitable for a mediterranean climate and a water-saving irrigation system. (See more about La Casita del Arroyo here.)
For older reports and articles please check out the archived (non-responsive) Southern California Branch page.
THE MEDITERRANEAN GARDEN is the registered trademark of The Mediterranean Garden Society in the European Union, Australia, and the United States of America