Various species of aloe anchor the garden throughout the hot summer months, but they also contribute to the raucous spring display. Aloe thraskii, a drama queen at all times, pokes up a tuft of creamy blooms in January. Aloe maculata (syn. A. saponaria) has been holding up orange blooms for several months, along with some tiny, spreading aloes with red flowers. As we move into April, the clumps of Aloe camperi have sent up their bloom spikes as a reminder that they'll provide months of coral flowers starting very soon.
Migrating Wilson's warblers hopped around and treated us to their songs between downpours today.
Oddly, the fleeting pleasures of springtime speak to the durability of the garden, comforting us as the coronavirus pandemic unfolds beyond the gate.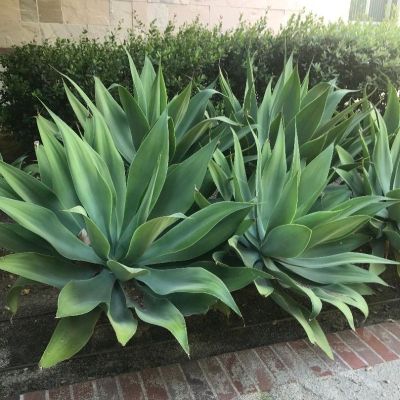 Agave
The gifting garden in Glendale
Whatever else might be happening in this world, such as a pandemic, the garden is always there, carrying on in its unhurried and marvellous way; whether it be its bees, tender sprouts, or the business of spring blossoms, it is here, real and ever-present.
The world of my garden connects me to its vital existence, sounds and scents, which belong to it completely. It changes my outlook and makes me happy. Life before I had a garden is hard to recall.
In these days of orders to stay at home, closed parks and beaches and empty streets, the garden is steps away and beckoning. It bids to me to come and be immersed. And I must allow myself to do so, to stop the worry over these less predictable times in which we live.
I walk its gravel paths in this special space dotted with benches here and there. In the morning, I snap pictures of the bright and fragrant Lantana camara cultivars 'Bandana Cherry' and 'Orange Sunrise'. Sometimes the chimes hanging from an old gnarled olive tree catch my attention. I take pictures and just send them to friends like a hug and a kiss. They are my good morning to my mom, my happy Friday to my love, a hug to my daughter.
In the late afternoon, my garden, which faces north-west, high on a Los Angeles hillside overlooking the valley, is often glazed by the sunset. In the "old days" my neighbour and I often shared a glass of wine, toasted the evening and chatted. I still sit on the same bench but it is my cell phone that connects me to friends and neighbours virtually, for now this is the reality of life during a pandemic.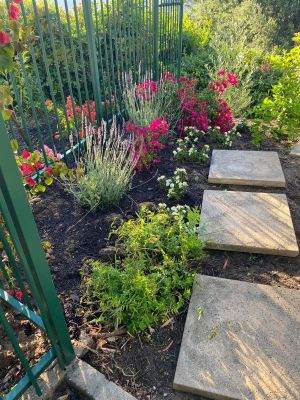 Glendale Garden: the walkway
My garden, my peace in Altadena
I am sitting in my patio on a balmy afternoon on the first day of May. I am struck again by how fortunate I am to be living in Altadena, which is located between the majestic San Gabriel Mountains to the north and Pasadena to the south. A lovely breeze cools the warm temperatures. There are patches of dappled sunlight floating through the neighbour's Chinese elm trees, leaving their impressions on the patio floor. I love sitting here, which my heart recognises, and as a result I am calm and very content even during this difficult time.
I designed the garden in 2012 with the help of my mother and a dear friend. It is an ornamental garden representative of the "old school Pasadena garden", with many camellias and azaleas. The intention was to have colour in the garden throughout the year. Interestingly, this part of our MGS Branch is in one of the most established gardening areas of Los Angeles, with gardens going back well over a century.
My collection of camellias ranges from the very old at 60 years to some newcomers, cultivated more recently. They include variegated Camellia japonica 'Daikagura' known as the "Great Sacred Dance", C. sasanqua 'Kanjiro', C. japonica 'Kramer's Supreme' and C. 'Tom Knudsen' and bloom from late December through March. The azaleas are a combination of 'Pink Lace' and 'Red Bird' which bring a riot of spring colours. This collage of changing colours brings such joy to this special spot.
The delicate Cercis canadensis 'Forest Pansy' that spreads its canopy over Carpenteria californica, Magnolia stellata and Ribes viburnifolium is my favourite. We also have Meyer lemon and mandarin satsuma trees. During April these flowered with a profusion of blooms the like of which I have never seen… or smelled. The roses are simple but prolific with 'Julia Child' and 'Iceberg'. I knew I had to include 'Julia Child' given that the real Julia Child was a Pasadena native and also because her namesake is lovely with its creamy yellow beauty. The 'Iceberg' roses also add to the garden with their subtle but lovely scents.
Birds, including mockingbirds, hummingbirds and wrens of every variety, are our visitors throughout the year. The haunting morning and evening calls of the California mourning dove are my favourite.
But of all the pleasures my garden gives us, the most special are our mountains which bring colour to the patio throughout the day. During this challenging time we are so fortunate to have a roof over our heads, a lovely patio in which to contemplate, and the mountains that give us a plein-air light show every afternoon. I begin and end my days saying my favourite prayer, Psalm 121, "I lift mine eyes unto the hills, from whence cometh my help. My help cometh from the Lord, the maker of heaven and earth."
Special thanks
The Southern California Branch of the Mediterranean Garden Society has always enjoyed a special place in the MGS. Some of our members were part of that first group of garden-lovers who sowed the seeds of the Mediterranean Garden Society and who nurtured the seedling into a beautiful tree with many branches. Special thanks are due to those members of our Branch who contributed to this collection of vignettes, opening their gardens and their hearts to us in this time of pandemic, including the Co-Branch Head Virginia Paca, and members Barbara Paul, Katie King, Ann Beisch and others.

THE MEDITERRANEAN GARDEN is the registered trademark of The Mediterranean Garden Society in the European Union, Australia, and the United States of America