A Hillside Garden in Sicily
by Peter de Figueiredo
photographs by Peter de Figueiredo
Photographs to illustrate the article published in The Mediterranean Garden No. 109, July 2022
The photo at the top of this page shows a dolphin mosaic made of pebbles (Photo Peter de Figueiredo)
Peter de Figueiredo writes: What a difficult two years it has been for those determined Mediterranean gardeners unable to travel to their cherished places in the sun. For my partner Julian Treuherz and me, whose plans to visit our house in Sicily have been successively scuppered by lockdowns, contracting Covid and other setbacks, two short visits in over two years have been hopelessly inadequate to keep a burgeoning garden project in check. To make matters worse, having finally made it to Sicily in early April this year, I suffered a bad fall in the garden and have been consigned to a bath chair ever since. Still, even if I can't do any gardening, I can fulfil Caroline Harbouri's kind invitation to write an article about the garden and the continuing pleasure it brings.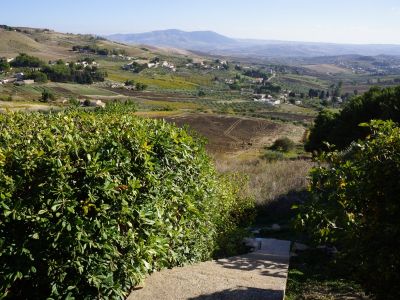 View of countryside from lower garden
We acquired the Sicilian property in 2003. It had originally formed part of a baglio or large farmstead, although most of the old farm buildings had collapsed or been replaced by new houses like ours. Our kindly neighbours, the Fanara family, had farmed the land for generations. It stands on a steep hillside with spectacular views over olive groves and vines, cottages, distant hamlets and mountaintops. The nearest urban centre is Trapani, a port city on the western coast of the island, with the ancient hilltop settlement of Erice perched high above. Also nearby are the beautiful Greek temple and theatre at Segesta.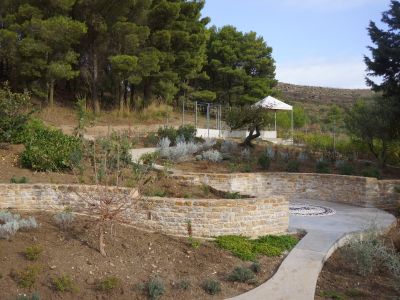 First year of planting upper garden after construction of terracing
The garden we inherited was in two parts: in front of the house is a flat area with olive and citrus trees contained by hedges of Pittosporum tobira, and a precipitous slope with a frightening staircase numbering 36 steps in a single straight flight without handrails, leading down to the southern boundary. Behind the house is the upper garden, reached by a cantilevered staircase from the courtyard. The upper garden was very small when we acquired it, but after discovering some years later that a corner of the house had been built on our neighbour's land, we reached an amicable agreement to buy not only the land that had been illegally purloined by our predecessor, but also a former orchard so as to extend our garden up the hillside to a pinewood that serves as a windbreak.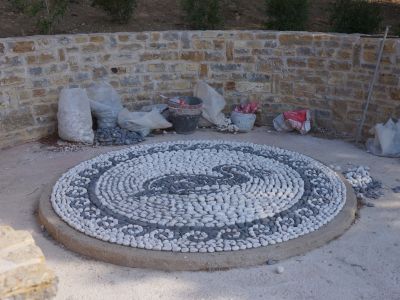 Pebble mosaic under construction
The Sicilian climate is famed for its hot dry summers and mild wet winters, but in recent years fierce storms with torrential rain and consequent landslips have become commonplace. To prevent the soil from our new garden being swept away, we decided to terrace the land using limestone rubble to create walls in the traditional manner. This came as a surprise to our contractor, Michele, who, like all Sicilian builders, favours concrete walls with a thin stone facing to form a crazy paving effect; but he willingly engaged an expert stonemason who came up trumps. A winding path was then created leading up to a gazebo at the top of the garden from where there is a different view towards the village church. Halfway up the path is a circular space, sheltered by the terrace walls, with a pebble mosaic of a dolphin, an ancient Greek technique still used locally. It was designed for us by an archaeologist friend from Palermo and made of marble pebbles by our resourceful builder. The gazebo, where we often have lunch, is reached through a pergola clad with climbers.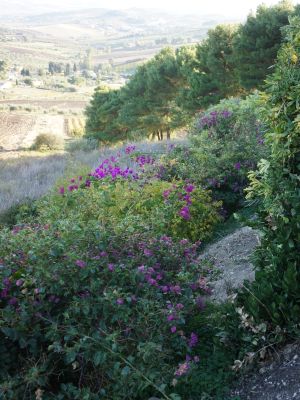 Steeply sloping lower garden with bougainvillea, oleanders and fruit trees
The soil is clay, very stony, and bakes to a crust like concrete in summer. A few gnarled fruit trees from the old orchard – plums and a quince – survive, to which we have added a black mulberry, a jacaranda and a palm tree. Otherwise, the main planting style in the upper garden follows the Olivier Filippi method with drifts of mound-shaped, mostly evergreen shrubs closely planted to cover the ground. These have been chosen to survive without watering. One special section is devoted to cacti and succulents which relish the arid conditions. These are planted among boulders dug up during the construction of the terraces.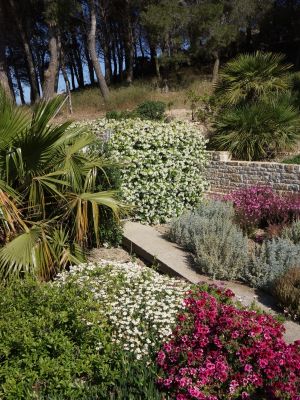 Bombola concealed by
Trachelospermum jasminoides
The selection of species has been a challenge and there have been many failures. When I first started planting it was difficult to find any local nurseries that stocked piante resistenti – plants that would survive without watering – but in the last few years things have started to improve. A mainstay of the garden is Pistacia lentiscus, which I have used for informal hedging, combined with Pittosporum tobira and the odd Metrosideros excelsa. Rosemary has thrived, both prostrate and creeping,the latter tumbling over the terrace walls. Other star performers include Teucrium fruticans 'Azureum' and Leucophyllum frutescens, which both flower for much of the year, as well as Myrtus communis and Phlomis fruticosa. Eremophila nivea has beautiful silver leaves and pale blue flowers, similar to the Teucrium but it is less commonly seen. Phillyrea, Polygala myrtifolia and Santolina have also proved reliable, although Santolina needs timely pruning, and is relatively short-lived. I favour S. benthamiana with its cream-white flowers. Lycianthes rantonnetii (formerly Solanum rantonnetii) and Duranta erecta, both with pretty blue flowers in spring, summer and autumn, are also planted in groups, though without the occasional watering in the hottest months their flowering is less prolific. Carissa macrocarpa is slow-growing but I like its star-shaped white flowers and glossy green leaves, while Plumbago auriculata is trouble-free and looks good climbing up a wall.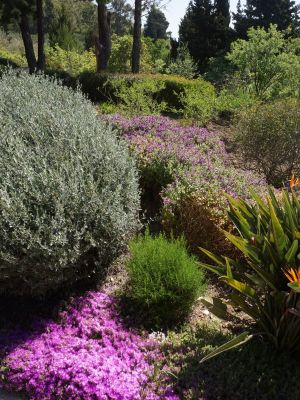 Teucrium, santolina and strelitzia
I have planted thyme and oregano along the edges of the paths, in some places backed up by Lavandula angustifolia. Cestrum nocturnum, which blooms at night with a beautiful scent, is another good plant for a pathway. Both Sempervivum tectorum and Mesembryanthemum cordifolium (formerly Aptenia cordifolia) with their tiny pink and red flowers make good groundcover in small areas and are attractive to the large black Carpenter Bee. I use certain quick-growing flowering plants such as Argyranthemum frutescens, Osteospermum fruticosum and Gaura lindheimeri as annuals or biennials as they cannot be relied on to survive the drought for longer. The gaudy Lantana camara, scorned by some, does well, as does the more subtle variety L. montevidensis, but I have failed to find a spot in the garden where the ubiquitous caper, Capparis spinosa, will take hold. I have also had difficulty with Artemisia, which is puzzling since it grows happily here in the wild, while the climbers on the pergola, Pandorea jasminoides and Jasminum officinale, are very slow in climbing.
One early success was concealing the liquid gas container (or bombola as it is called in Sicily). This had pride of place in the top garden when we moved in, perched on a concrete slab and surrounded by an ugly wire fence. Now it is entirely concealed by a well-clipped hedge of Trachelospermum jasminoides with its heady scent in May and June.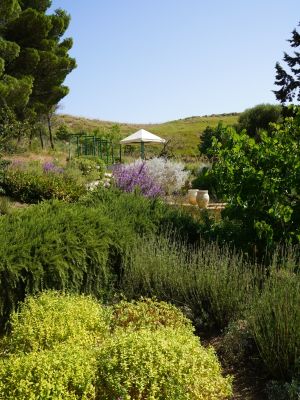 Polygala, lavender and rosemary in upper garden
Many of the plants I have used are not native to Sicily, but my aim has never been to replicate the native ecosystems of the surrounding hillsides. These can be beautiful, especially in spring when a kaleidoscope of coloured flowers burst out in the warm sunshine. But when land that was once cultivated has been abandoned, as is now common in rural Sicily, the most vigorous species take over. Sadly, much of the agricultural land that was still being cultivated by the senior members of the Fanara family when we arrived 19 years ago, including a sizeable area adjoining our upper garden and all the fields beyond our lower garden, has now been abandoned, and it is distressing to see it being consumed by invasive species such as the staghorn sumac, Rhus typhina, and large clumps of fountain grass, Pennisetum setaceum. Other thugs I try to keep out are the amusing but hostile Ecballium elaterium which squirts its seeds at you in a gluey liquid if you touch it by accident and the beautiful but invasive Acanthus spinosus.Also a menace is the ubiquitous Oxalis pes-caprae which has featured in other TMG articles in the past.
Santolina and eremophylla in upper garden
I knew nothing about cacti and succulents before starting the garden, but this has now become a special interest. Among the boulders I have so far planted around 20 varieties. At the centre is a Dragon Tree, Dracaena draco. Some of my favourites among the grassi, as they are known in Sicily, are Agave varieties A. filifera, A. geminiflora, which is similar to the Dasylirion (of which I have one too), A. ovatifolia, and A. victoriae-reginae with its amazing rosettes of broad thick leaves. The aloes I have planted include A. × spinosissima with its bright red flower spikes in winter and A. arborescens. I like the Echinocactus grusonii, looking like a fat spiky football, while the upright cactus varieties include Lophocereus marginatus and Pachycereus pringlei.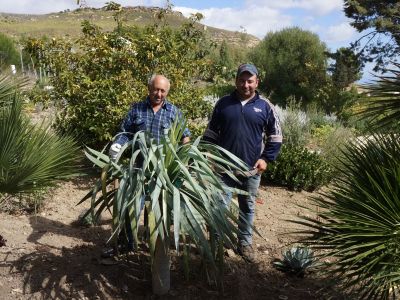 Dragon tree is planted
The fan palm Chamaerops humilis is a mainstay of the Sicilian gariga, but it has been badly affected by the Paysandisia archon moth (or its caterpillars) in recent years, and I have been methodically removing the affected limbs of my specimens in the hope that they will survive.
My next step is to introduce more bulbs and tubers. The only ones I have planted to date are Tulbaghia violacea, a type of wild garlic that flowers for a long period, miniature alliums and blue and white agapanthus. Pretty pink wild gladioli have found their own way into the garden. But, inspired by a visit to Sparoza three years ago, I intend to find spots for the tiny narcissi, cyclamens and irises found on the hillsides as well as exotics such as crinum, clivia and Amaryllis belladonna.
In recent years the outbreak of wildfires in the Sicilian countryside has increased. In 2011 we were threatened by flames that swept alarmingly quickly across the abandoned fields below our property, jumped the firebreak we had created and took hold of some of the fruit trees planted in the lower garden. Fortunately, we were there at the time and were able to fight it off with buckets of water and hoses; so that when the fire brigade eventually arrived the danger to our house had been averted. It made us all too conscious of the seriousness of the climate crisis.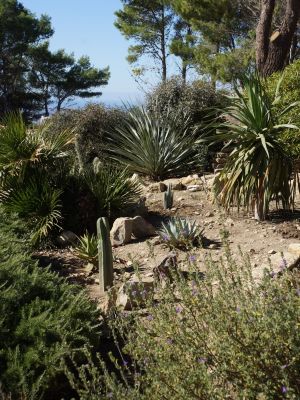 Cactus garden
One final observation - and I am now completing this account almost four weeks after my accident, still unable to do any gardening - regards weeding. No Sicilian gardener believes in hand-weeding as I do; they are inclined to leave anything that cannot be attacked with a rotavator (or motozappa as they call them). The trick is to learn what self-sown 'weeds' can be safely accommodated to enhance the garden and what must be removed, for some will take over if not tackled as they appear. I have not reached this state of knowledge yet, but the inability to spend much time in the garden over the past two years has not helped.
THE MEDITERRANEAN GARDEN is the registered trademark of The Mediterranean Garden Society in the European Union, Australia, and the United States of America