Mediterranean Garden Society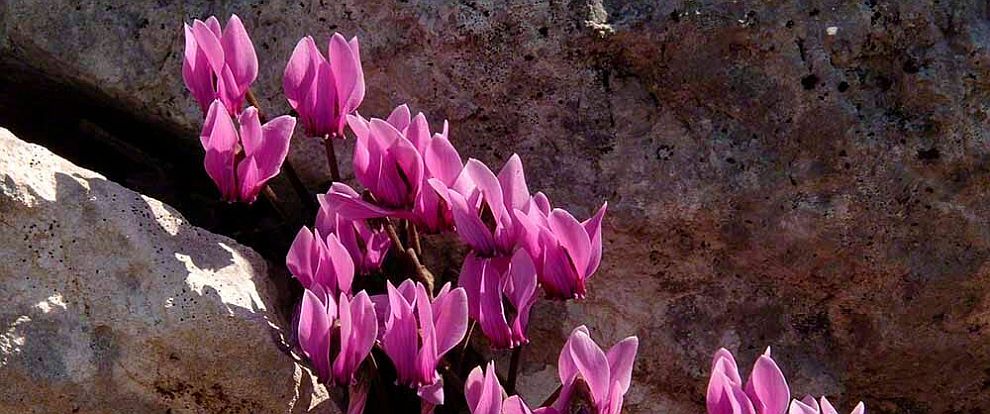 Aims of the MGS
The photograph at the top of this page shows Cyclamen graecum, attractive not just for the intricate variety of its leaf patterns and its dainty elegance, but also for its sheer character, flowering happily in the most unlikely rock clefts (Photo Alisdair Aird)
In summary
The cultivation and development of mediterranean plants and gardening.
The study of the flora including: cultivated plants, their origins, uses and management, endemic mediterranean plants which can be used in gardens and exotic plants which can be introduced into mediterranean gardening.
The propagation of mediterranean plants.
The design and construction of gardens suitable for the mediterranean climate, landscape and way of life.
The study of mediterranean soils and their proper management and improvement. Interest in technical aspects of mediterranean gardening, such as irrigation, garden and botanical equipment, etc.
Attention to mediterranean gardens of special interest, particularly botanical and historical.
The promotion of education and information as regards the plant world and flora.
The dissemination and cultivation of the love of nature and the sensitization and education of public opinion on matters concerning the environment and ecology.
The confrontation of problems in the area where the Society has its seat: cultural up-grading and development and the struggle to conserve and maintain the Mediterranean cultural heritage and landscape, ekistic, ecological and environmental problems.
The promotion by all legal and advantageous means of the Society's aims.
THE MEDITERRANEAN GARDEN is the registered trademark of The Mediterranean Garden Society in the European Union, Australia, and the United States of America