The Victoria Branch of the MGS
The objective of the Victorian branch is to give MGS members some value locally, in addition to the benefits they receive internationally. To this end, we aim to hold four to five events each year and send out an electronic newsletter with a similar frequency. Most of the local events are visits to private gardens, including an annual plant exchange. A major benefit of these events is to enable people to learn from each other's experience of local conditions, expand our plant knowledge and get new ideas. The newsletter usually also contains other items of interest, such as news of local events beyond the society.

Our Branch Head is Malcolm Faul (biography) and prospective and new members are encouraged to make contact with him by email
The photograph at the top of this page shows Grevillea victoriae, the royal grevillea, which is endemic to Australia's Victoria state. It was first described by botanist Ferdinand von Mueller in 1855 and was duly named after Australia's Empress of the day, Queen Victoria..
Forthcoming Events
Friday 12 to Monday 15 March - Castlemaine - FULLY BOOKED
2nd Pan-Australian Conference of the MGS
The Victorian branch is hosting the Pan-Australian Conference in Castlemaine next March to which all MGS members are welcome. Programmed to show off the best of this eclectic and historic region, the Conference will be based at historic Buda, with the talks held in its Garden Room.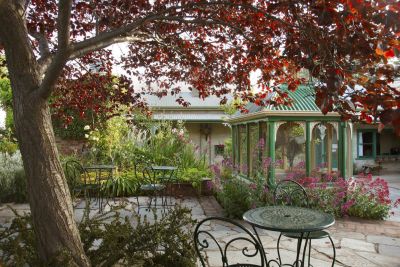 View of the Aviary at Buda
Confirmed Speakers include Michael McCoy (landscape designer; narrator ABC's "Dream Gardens"), David Glenn (Lambley Nursery) and Peter May (former Head of Campus, Burnley College; Environment and Sustainability consultant). Garden visits will explore town gardens, dramatic rural gardens, sculpture parks and rolling hills strewn with giant boulders. Coach travel will be provided around Castlemaine and district. Castlemaine is within easy reach of Melbourne by train or airport shuttle bus in one and a half hours. Bookings open in September. For more information and to book your place please email Malcolm Faul.
Past Events
November 2018
Gardens of Stonnington
Our special day of smaller gardens in Toorak and Malvern was extraordinarily successful, in perfect weather with spring flowerings at their best. Our heartfelt thanks go to the owners and to Caroline Davies as the organiser.

We began at the Toorak garden of Fiona Brockhoff. Her garden features her creative ideas for gardening where space is limited and with ways to cope with difficult conditions. Here the borrowed landscape is integrated into the overall design of the garden and plants have been carefully chosen to best suit the various micro climates in the garden. The roof garden in particular made good use of the borrowed landscape. The price paid for the borrowed landscape is fearsome root competition: plants were chosen with this in mind.

This was followed by Caroline Davies' exceptional collection of pots of unusual plants, married with interesting sculptures and artefacts. It never ceases to delight.
Caroline Davies' garden (Photo Lindy Neylan)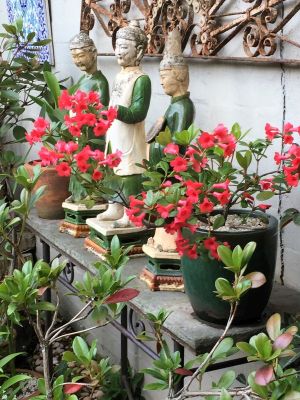 A close up of the Chinese figures and the Vireya rhododendron (Photo Caroline Davies)
Susie Brookes delightful garden makes significant use of pebbles as a mulch on the elevated rear terrace, with a large area of Nierembergia rivularisas ground cover. Amongst the many highlights, the avenue of Tilia cordata along the side fence and the dramatic creeper against the house. Even the lunch at the Seasonal Kitchen seemed to have a garden feel, outside under a huge neighbouring Moreton Bay Fig.

The fourth garden was of the late Marian Brookes, a notable plants woman. Margie Brookes has maintained the garden for many years and continued to do so up to our visit, although the house has now been sold. We were privileged to have her as our host for the visit. Hardier plants populated the front garden under a large tree. However, the back garden was a riot of colour over a surprisingly large area, with hidden beds in each of the back corners. The view from the patio was enhanced by its elevated position.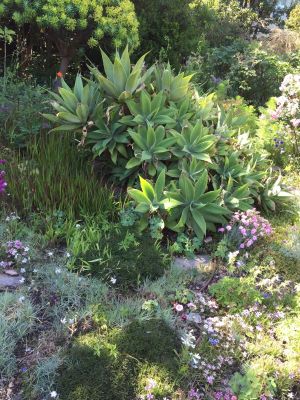 The garden of the late Marian Brookes (Photo Caroline Davies)
April 2018
A guided garden tour to Lambley Gardens and a visit to Frogmore Garden and Nursery
Despite persistent drizzle, everybody enjoyed David Glenn's guided tour of Lambley Gardens and his own garden around the house. David, who is gregarious, was extremely generous with his time and loved telling us about the plants and how he managed to introduce some of them to Australia. Since we last visited as part of the MGS AGM in 2012, what was then the propagating area has become the main show garden, with many floriferous borders (despite the autumn season and the long dry period) and sculptures and other garden ornaments as focal points. David steered us clear of the area that had previously been the main garden and showroom for desirable dry-climate plants. This area is undergoing a major renovation. We sneaked in after the tour and observed the true survivors of the summer.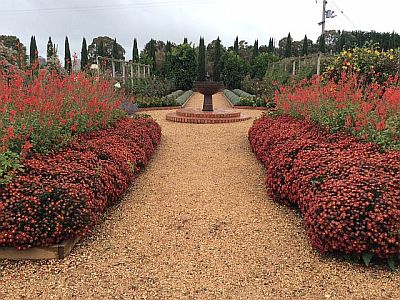 Lambley Gardens – main axis
After a pleasant drive through Daylesford along attractive roads through picturesque villages we arrived at Frogmore Garden and Nursery, Blackwood. The owner gave us a brief presentation (and umbrellas), after which we were free to roam the extensive garden, which has many fine, long and wide borders. Under his tenure he has dug many truck-loads of compost into the clay soil and also added gypsum.
While this is not a drought-tolerant garden, the owner explained that he nevertheless uses only a fraction of his water rights (as does Lambley). The garden features a very wide range of unusual plants, and grasses are used to great effect. The exotic trees were colouring beautifully. They are maturing well, having been planted 17 years ago when the garden was established. Their autumn colours looked stunning against the surrounding mist-covered grey-green forest. If you missed this garden visit, go when it is next open in March and April next year (check the website) – the nursery is open all year.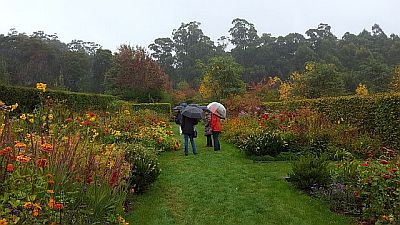 Frogmore - one of the borders against the native forest backdrop
For older reports and articles please check out the archived (non-responsive) Victoria Branch page.
Background on Branch Head Malcom Faul
Malcolm is a retired accountant with an interest in gardens and gardening, inspired by his wife, Fran and her knowledge of and interest in plants, landscape design and history. They are long-standing members of the MGS. They are also active members of the Australian Garden History Society.
Fran and Malcolm organise and take part in a working bees programme on historic gardens that cannot have the labour to maintain them in anything like the style of when they were created 100 years ago.
THE MEDITERRANEAN GARDEN is the registered trademark of The Mediterranean Garden Society in the European Union, Australia, and the United States of America